Florence Court
Trowbridge, The Orders of St John Care Trust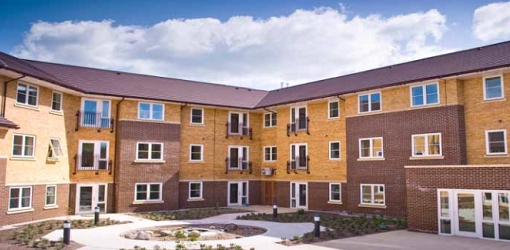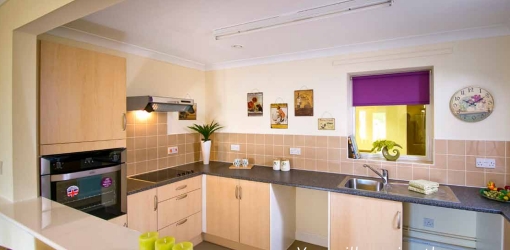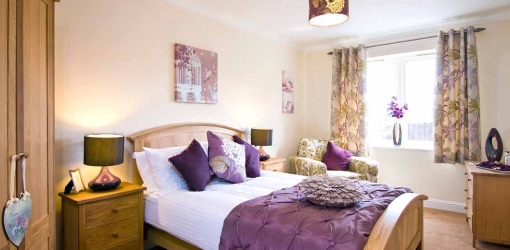 Description of Scheme
Florence Court has been designed to provide a home for life as far as practically possible. Apartments provide an enabling environment and are designed to accommodate mobility aids, with well-equipped kitchens and wet rooms.
Florence Court promotes living independently while being safe in the knowledge that specialist help is there when required. Trained care staff work closely with GPs, nurses and Social Services, ensuring access to the best possible care when needed.
Where Is It?
Trowbridge is the county town of Wiltshire, England, situated on the River Biss in the west of the county, approximately 12 miles from Bath, Somerset. Trowbridge Farmers Market is held on the 4th Friday of every month in Fore Street from 9.00am-1.00pm.
Rutland Crescent is 0.9 miles, about 16 mins walk, to The Shires Shopping Centre.
Residents Information
Phil:
'I've been here at Florence Court for 3 years now after coming from a injury rehab centre in a nearby town. Before that I used to be a Groundsman and am able to use my gardening skills for my own little garden I have here! A carer goes out of his way to water my plants when I am not able to which I find extremely kind. The great thing about the staff is that they go that extra mile for us; it's the little things in life that count! I have no complaints about the care services, they're very organised and all the staff are friendly.
It's very social here. We have fish and chip nights, bingo and even had a BBQ and band play here over the summer! Things are really looking up for Florence Court. However I also enjoy having my own patio. It's like a little private escape where I can bask in the sun during the summer.
I'm in a wheelchair and thankfully for me town isn't that far to get to, I am easily able to get there and use my electric scooter to travel there and back.'
Ted:
'I haven't been at Florence Court for very long but I found it very easy to settle in. My wife is physically disabled and I enjoy the social activities because they are well attended and I am able to socialise with other residents too. We have always lived in the area and coming here wasn't stressful because it is close enough for our family to visit. I think the location is great, despite there being a shop here we also have a supermarket close by. The restaurant here is also fantastic, there is a good range of meals and if you don't like something the chef will always try and sort things out and accommodate your wishes.'
Key Information
Location
Trowbridge
Local Social Services Authority
Wiltshire
Region
South West
Year Funded
2008/10
DH Fund
ECH
Useful Local Statistics
In 2007-08, Wiltshire Council commissioned Peter Fletcher Associates, an external consultancy firm, to produce an Accommodation Strategy for Older People. This report included a demographic analysis over the next 20 years, an assessment of the current suitability and level of supply of older people's accommodation within Wiltshire, a forecast of future requirements for older people's accommodation and made recommendations on how these requirements could be met.
The Accommodation Strategy for Older People indicated that in 2007-08 there were 78,690 people that were aged 65 or over within Wiltshire. This equated to approximately 17.4% of the total population. By 2026, the number of people aged 65 or over was projected to rise to 122,610 based on 2007-08 data, which would be an increase of 55.7%. The 85+ age category was projected to see the highest increase during this time of 89.4%, which is significantly higher than the 65-74 age range (44.8%) or the 75-84 age group (58.6%). Furthermore, the Accommodation Strategy for Older People identified that Wiltshire can expect to see 59% more cases of dementia by 2025, which is higher than the growth in England as a whole. However, the most recent population projections indicate that the older population will increase at a higher rate than originally anticipated. These projections indicate that the over 65 population will increase by 26% higher than the anticipated growth rate within the Accommodation Strategy for Older People.
Care Services
On-site care staff (24 hours)
Personal care (washing, dressing etc)
Hospital escort for appointments
Monitoring and administering medication
Laundry, including washing and ironing
Housekeeping
Shopping or escorting to the shops
Preparing and cooking meals
Assisting with reading mail/correspondence
Facilities
Lounge
Dining room/Restaurant
Guest facilities
Garden
Activity room
Treatment room
Laundry room
Hair salon and therapy room
Key Features
Properties
40 flats. Sizes 2bed. Built in 2011.
Tenure
Mixed: 20 two bedroom apartments under Shared Ownership and 20 available rented.
Plans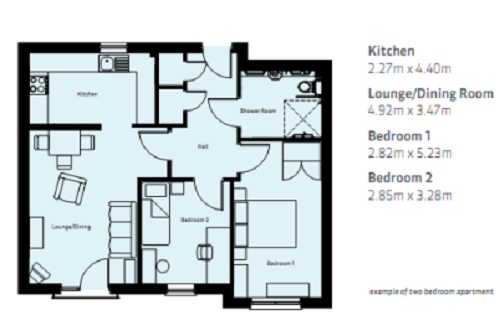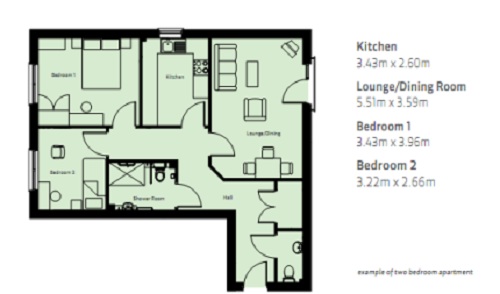 Address
Rutland Crescent
Trowbridge
Wiltshire
BA14 0NY
Scheme Location Map
Partners
Housing Provider
The Orders of St John Care Trust
Care Provider
The Orders of St John Care Trust
Local Social Services Authority
Wiltshire
Developer
Bedfordshire Pilgrims Housing Association