Elker Lane
Billington, St Vincent's Housing Association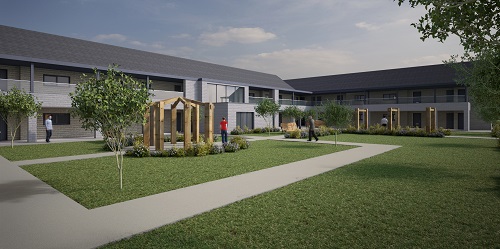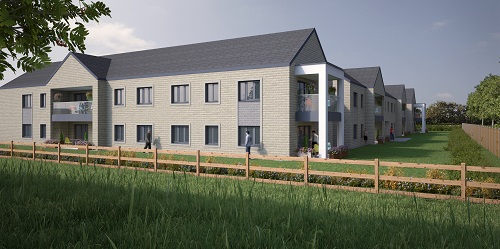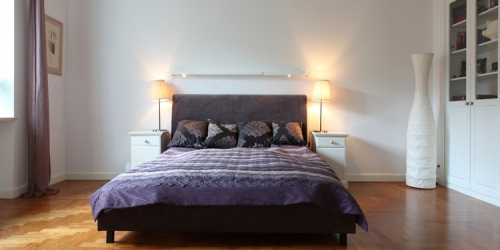 Description of Scheme
Situated in Billington on the outskirts of Whalley, Elker Lane is a scheme of 19 no. 2 bed apartments being developed by St Vincent's Housing Association in the beautiful Ribble Valley. The new homes offer a new style of 'HAPPI' living available for both rent and shared ownership sale, designed with character yet all the comforts of modern life. Positioned not far from both Whalley and the thriving market town of Clitheroe, Elker Lane offers the opportunity for peaceful living whilst being close to nearby local amenities including supermarkets, surgeries, restaurants, bars and leisure activities. Elker Lane offers excellent transport links, being just a stone's throw away from the A59 with convenient bus and rail connections.
The design of the new scheme includes a mix of private space and shared amenities. The layout of the building creates a large landscaped courtyard area at the heart of the development which is overlooked by each of the individual apartments. The building is two-storey with a lift serving each floor.
As with the majority of HAPPI schemes, the main objective of the scheme is to provide smaller accommodation for older people to downsize into, while promoting independence and housing choice. The scheme has been designed in accordance with the following design and quality standards:
Design and Quality Standards 2007, generous space standards meeting HQIs
Building for Life
Secured by Design
Code for Sustainable Homes level 3
Lifetime Homes
With specific regard to the 10 HAPPI design principles:
The materials to be used are particularly sensitive to the site's location and the building will enhance the local environment. The proposals have been developed following careful consideration of the surrounding context and the original character of the area. With regard to the materials chosen, these have been taken from the adjacent Elker Farm development and the local properties on Whalley Road that use local stone. There are a number of more recent housing developments also in the area which have lead to the inclusion of the gable fronted elements within the new scheme.
Plenty of light in the home and circulation spaces. Each apartment has a large number of windows to the external elevations and additional windows to the shared corridors.
Balconies and outdoor space, avoiding internal corridors and single aspect flats. Each apartment has its own private balcony that provides secure and private open space and also large communal balcony access for gathering to the entrance side of the flats
Adaptability and "Care Aware" design which is ready for emerging tele care and healthcare technologies.
Circulation spaces that encourage interaction and avoid an institutional feel. The communal corridors provide breakout spaces for informal meeting and gathering.
Shared facility and communal hub where these are lacking in the community. There is a communal lounge at ground floor behind the entrance that can be accessed by all.
Plants and trees and natural environment. A thorough and detailed landscape scheme has been provided to encourage health and well being for the residents, including a well-design allotment area and planting beds
High levels of energy efficiency with good ventilation to avoid over heating. The scheme will be assessed under the Code for Sustainable Homes in order to provide a level 3 rating
Extra storage for belongings and cycles/mobility scooters. A scooter/ bike store has been provided at the entrance to the scheme with charging points. In addition there is storage allocated for bins, plant and other items throughout the scheme.
Shared external areas such and home zones that give priority to pedestrians. The car parking and communal gardens have been carefully designed to encourage a sense of community within the scheme and encourage residents to interact.
Where Is It?
This scheme is located in the village of Billington which lies between the villages of Whalley and Langho, in the Ribble Valley District of Lancashire.

The proposed development is positioned within a rural setting with open countryside to the north and west. The surrounding residential properties are varied; those closest being a mix of two storey houses of different ages, converted farm houses and barns. There is a secondary school opposite, typically developed 1960s.
Key Information
Location
Billington
Local Social Services Authority
Ribble Valley Borough Council
Region
North West
Year Funded
2013
Cost
£3.2m
DH Fund
CASSH 1
Proximity
The scheme is positioned a short distance from the main Whalley Road in Billington, an established rural village in the Ribble Valley. The site is well connected with regards to transport links; the A59 is a short distance away, a regular bus service is available on Whalley Road with buses to Whalley, Clitheroe and further afield to Blackburn. There is a train station in Whalley (approx 1 mile away), with trains to Clitheroe, Burnley and Blackburn.
Within a 5 minute walk, local facilities are provided in Billington, including local shop, church and community centre. Doctors, pharmacist, post office, bank, cash-point and further shopping amenities are located in nearby Whalley.
Relevant Local Strategy
The Local Housing Needs Survey for Billington and Langho May 2011 indicates the housing demand for new affordable - households are in housing need but house prices were 4% higher than the Ribble Valley average and 35% than the whole of Lancashire.
The 2011 census figures show that Ribble Valley has a higher than average proportion of pensioners 20.2% compared to 16.3% nationally and within Ribble Valley; the 'over 90 year' population is expected to double by 2028 and single person households set to increase by 25% in the same period.
The need to provide more housing choices for elderly persons, supporting independent living and promoting the links between excellent quality homes and health and well-being are detailed in the following strategy documents:
Lancashire County Council's Older Person's Strategy
Older people health and wellbeing in rural Ribble Valley May 2011 - Lancashire CC
Sustainable Community Strategy May 2011 - Ribble Valley BC
Mid Lancashire Housing Contextual Statement 2012 - 2015
Facilities
As a HAPPI scheme promoting independent but flexible living, the scheme benefits from a communal lounge with a kitchen area and a folding screen allowing the room to be divided as usage requires, for example if treatment sessions were being offered. The lounge opens onto a rear patio area allowing for outside dining or entertaining. The lounge will also provide provision for Wi-Fi, cable television for residents to use as well as ample sockets to allow for training sessions (for example computer and internet training which will be open to non-residents as well). A fully wheelchair accessible WC is provided adjacent to the lounge to further maximise its usage to residents and non-residents alike.
The building is designed around a well-landscaped courtyard area allowing for further outdoor activities and socialising. The communal grounds will be maintained by St Vincent's however gardening involvement will be encouraged. In line with the Local Authority's Health and Wellbeing Strategy, a large allotment area and raised plant beds are to be provided allowing residents to grow their own food or tend to flowers. It is envisaged that a gardening club will be instigated (open to all, with particular liaison with the local school to encourage relationships) which will further promote social interaction as St Vincent's fully recognises that loneliness and isolation can be a real problem for residents particularly later in life. Indeed, the very design of the building further promotes interaction between residents; the relationship between the apartments and the need to interact with neighbours whilst passing through the main entrance means that casual encounters between residents will be inevitable.
Whilst not being based on-site, St Vincent's staff will be providing regular support to residents in the form of weekly drop-in sessions, organised events and promotion of a residents' association. The communal lounge will be at the heart of this service.
Secure cycle and scooter storage are provided on-site for residents.
Key Features
Properties
Tenure
10 affordable rent
9 shared ownership purchase
Address
Billington,
Lancashire,
BB7 9JA.
Scheme Location Map
Partners
Housing Provider
St Vincent's Housing Association
Architects
Jennings Design Associates
Local Social Services Authority
Ribble Valley Borough Council
Developer
St Vincent's Housing Association
Contractor
Lovells Development plc