Bowthorpe Care Village
Norwich, Saffron Housing Trust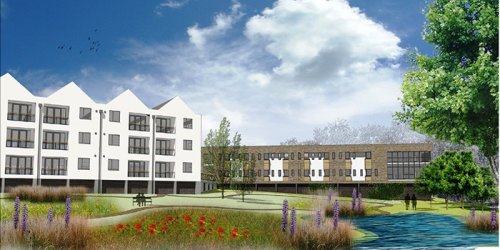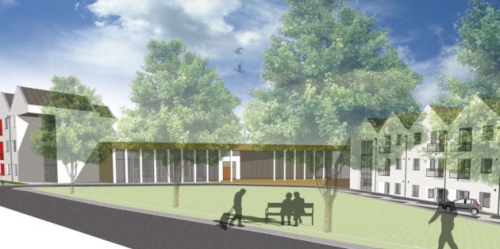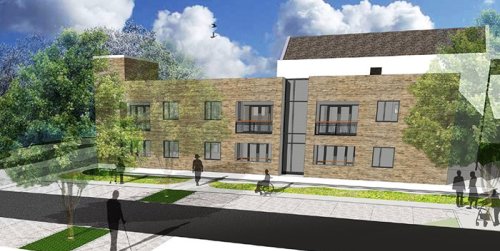 Description of Scheme
NorseCare have built a modern, dementia-friendly scheme for the residents and tenants, offering a vibrant internal and external design which responds to the challenge of providing extra dementia-friendly resources for our local communities.
The complex provides cutting-edge design standards for care housing and has a community hub that we hope will be used by other residents living around the village.
The heart of the care village is the community orientated shared central space. This area houses a variety of spaces that are accessible for all residents. Contained within this 'hub' are a restaurant, café, social club, meeting room, health and wellbeing spa, shop, hairdresser, beauty salon, and a library along with support spaces and office accommodation.
The Central Hub is a heart of the scheme in both a social and administrative sense. This area is the focus for social activities for residents and the space where people can come together. It also begins to introduce a reason for residents to remain active whilst using these spaces, something which is a key consideration of the HAPPI principles.
The project has been conceived as a series of screens that create phased privacy as you progress into the development. The outer screen is the perimeter Housing With Care (HWC) block. These building form a protective barrier between the wider masterplan development and our landscaped gardens and the dementia care development.
Where Is It?
The Bowthorpe Care Village has been built in a mainly residential area to the west of Norwich on a site that takes in views over the River Yare valley.
Key Information
Location
Norwich
Local Social Services Authority
Norwich City Council
Region
Eastern
Year Funded
2013
Cost
Total: £19.5m
DH Fund
CASSH 1
Proximity
Dr's surgery within 1km
Shops within 1km
Care Services
Onsite personal care
Facilities
Hairdressing
Community shop
Communal lounge / social area
Café
Restaurant
Onsite personal care
Landscaped gardens
Key Features
Properties
92 Apartments
78 1Bed
14 2Bed
Tenure
Social rent
Address
Lady Smock Way,
Norwich,
NR5 9BF
Scheme Location Map
Partners
Housing Provider
Saffron Housing Trust
Architects
Barron & Smith Architects
Care Provider
NorseCare
Local Social Services Authority
Norwich City Council
Developer
NorseCare / Norfolk County Council
Contractor
R G Carter