Armstrong Gardens
Bilsthorpe , Newark and Sherwood District Council and Newark and Sherwood Homes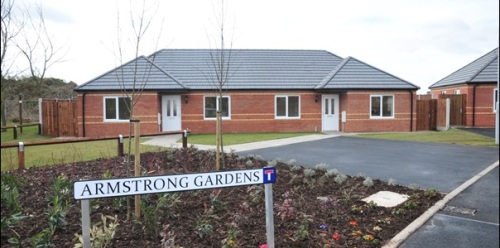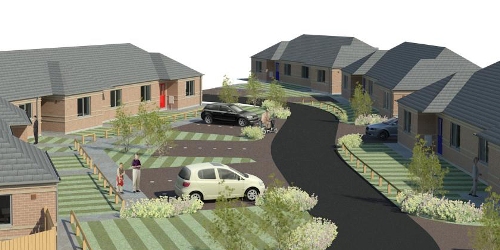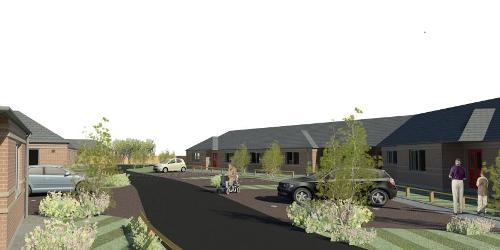 Description of Scheme
The design of the scheme incorporates the Standards of Quality in Development from the National Housing Federation Guidance; The Urban Design Compendium; The Manual for Streets; The Homes and Communities Agency Non-Mainstream Housing Design Guidance with its literacy review, Lifetime Homes Standard and the work carried out by HAPPI with their ten design elements.
Each dwelling is designed with a level access wet room, two bedrooms to allow for people to sleep separately when necessary or to allow for carers or relatives to stay over when required. Each dwelling has a 24 hour Life Line system installed which allows Newark and Sherwood Homes to provide quality support and personal service at all times.
Dwellings are built to the Code for Sustainable Homes Level 4, giving careful consideration to the location of the kitchen units and windows to ensure that there are no difficulties with reaching distances. The air source and underfloor heating system is installed to reduce heating costs and allows the properties to become warmer and prevent accidental burns on radiators.
Patio doors exist within the dwellings to allow the occupants who may spend more time than most in a seated position to look outside and benefit from the daylight and connect with the outdoor environment. Most of the dwellings have a pleasant outlook across open country side and every dwelling has a private defensible space with the rear garden not being overlooked by any other dwelling.
All dwellings have the benefit of a private external storage facility which could be used to house a mobility scooter and sixteen of the bungalows will have car parking spaces located within the boundary. Nine bungalows which do not have parking within their curtilage, as they are arranged in a terrace, have their own private individual path from their car parking space to their front door.
Where Is It?
Bilsthorpe is a rural village with an aging population, where much of the local housing was built in the 1950's for employees of the colliery which closed in 1997. The village has a mixed tenure with private, Local Authority and Registered Providers stock and has local retail and a school.
Key Information
Location
Bilsthorpe
Local Social Services Authority
Newark and Sherwood District Council and Nottinghamshire County Council
Region
East Midlands
Year Funded
2013
Cost
£2,186,623
DH Fund
CASSH 1
Awards
Exceptional Initiative award from National Federation of ALMOs (NFA) Awards
Proximity
Nearby amenities include:
Community Centre: onsite
Library: 300m
Local shops and hairdressers: 300m
Post Office: 400m
Village Hall: 400m
Pharmacy: 450m
Medical Centre: 600m
Relevant Local Strategy
The Newark and Sherwood Local Housing Strategy (2009-2016) identifies that nearly 25% of households in the district are older persons and has the highest percentage of people over the age of 63 in Nottinghamshire. These statistics present challenges that have been addressed in the Strategy which includes meeting older persons housing needs through new development and targeting services to the elderly through various initiatives and being part of the Health and Well Being Alliance sub group. The Council undertook a survey into the housing needs of older people in 2012 which suggested that the majority of respondents are seeking bungalows.
Click here (opens new window) to access the Newark and Sherwood Local Housing Strategy.
Useful Local Statistics
The village of Bilsthorpe (3,000 residents) has an ageing population which is causing a shortfall in suitable accommodation for the elderly. Much of the accommodation is for families, however, residents over the age of 65 represent 15% of the population and residents between the ages of 45 and 65 accounts for 25% of the population indicating a big demand for housing suitable to meet the needs of older people, particularly those with health issues related to a career in mining.
There is a considerable gap between supply and demand for supported housing in the village. There are 111 units of Council owned accommodation suitable for supported living and 44 units of registered provider's accommodation of a similar nature. Housing Register information indicates very good levels of demand (12 applications per property). Linking this demand in with the CCG's PRISM programme which provides care as close to residents' homes as possible suggests that these properties will be welcomed by current and potential residents.
Care Services
24 hour Life Line system in place.
Facilities
Access to a variety of communal activities and services provided at the existing onsite community centre that will support the health and well-being of residents and promote independent living. For example: Exercise classes, hairdressing service, luncheon club, games session (bingo, dominoes, cards), social evenings, housing surgeries;
A 24 hour Life Line system in operation which will be provide quality support and personal service delivered in-house by Newark and Sherwood Homes;
A 24 hour emergency repair services delivered in-house by Newark and Sherwood Homes;
Access to tenancy advice, including Welfare Reform and tenancy management provided in-house by Newark and Sherwood Homes;
Supported by the Clinical Commissioning Group, particularly with their PRISM programme which is focussed on improving care for patients with long term medical conditions, the frail elderly and those with cancer. One of the key principles of the programme is to provide care and additional support in the patient's own home.
Key Features
Properties
25 bungalows. All 2bed.
Tenure
Affordable rent.
Address
Scarborough Road,
Bilsthorpe,
Nottinghamshire,
NG22 8QU.
Scheme Location Map
Partners
Housing Provider
Newark and Sherwood District Council and Newark and Sherwood Homes
Architects
Studio G
Care Provider
Newark and Sherwood Homes
Local Social Services Authority
Newark and Sherwood District Council and Nottinghamshire County Council
Developer
Newark and Sherwood District Council and Newark and Sherwood Homes