Amblecote Gardens
Little Hulton, City West Housing Trust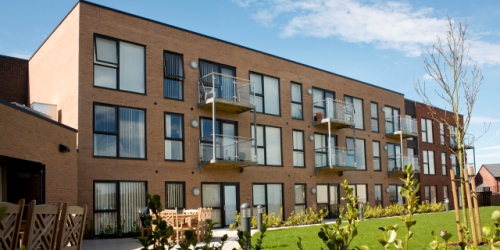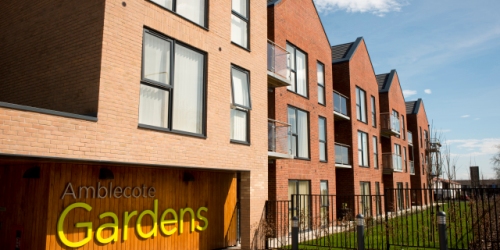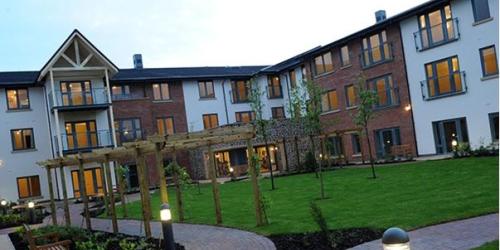 Description of Scheme
Amblecote Gardens is designed to feel like a normal non-institutional home for residents and is to all intents and purposes is a group of high quality apartment blocks grouped around a series of public spaces, private spaces and private garden areas. The development integrates into the surrounding neighbourhood as any residential block should, fitting comfortably into the streetscape.
The building is designed for self-reliant residents and those with care and support needs, and will feel like a high quality apartment block grouped around a series of public and semi-public spaces and private garden. The development integrates into the surrounding neighbourhood opening its doors to guests of the residents and the local community through the shared café dinning and community facilities at the heart of the building.
All the apartments are designed to good space standards - all apartments have three habitable rooms including the one-bed apartments. The individual apartments allow for a variety of ways of living from single occupancy double occupancy and allowing for sleepovers by family members or carers. The building has been designed to be future proof as far as predictable. One example of this is flexibility in the technology incorporated; all parts of the building will be provided with cat 5 cabling wired back to a control point to enable future technologies to be added anywhere.
Where Is It?
This scheme is located in Little Hulton in Manchester. It is situated in the centre of a small, traditional 1970's residential estate called Amblecote. The scheme is part of a wider regeneration of the Little Hulton area that is seeing large scale investment.
Key Information
Location
Little Hulton
Local Social Services Authority
Salford City Council
Region
North West
Year Funded
2013
Cost
£1.4m
DH Fund
CASSH 1
Awards
Amblecote Gardens recently won Extra Care Development of the year 2015 through the Inside Housing's Top 60 Development Awards.
Proximity
The scheme is within a 15 minute walk of the Little Hulton Shopping Centre which has numerous retail facilities including; GP practice, Library, bakery and convenience store, etc.
There is also Pharmacy just under a mile away; and current development plans include the relocation of the Pharmacy on a site adjacent to Amblecote Gardens on Cleggs Lane.
In addition to this, there is a bus stop 65 yards away, local shop 80 yards away, post office 0.8 miles away, General Practioners 704 yards away and social centre 0.8 miles away.
Useful Local Statistics
The biggest health risk facing communities in Salford is poverty. There is also the national issue of an ageing population creating additional pressures on resources. If City West can extend their supply of good quality housing, help get people into employment and try to change attitudes and behaviours that put their customers at increased risk they can have the biggest impact.
The biggest health risks facing communities are as follows:
In the North West, the number of people living in poverty was 1.5 million (21%) in 2013/14, 4% higher than in England.
31% of children are in poverty in City West areas - 10% higher than the UK.
People in City West areas suffer from both poor mental and physical health. They have particular issues with:
Alcohol misuse: there has been an increase in the reported incidence of alcohol-related illness since 2009/10.
Poor diet: 8.6% report eating 5+ portions of fruit and veg less than in UK.
Smoking: 4.2% higher than the UK average.
High levels of economic inactivity: 7.4% higher than the UK average.
People with 'excess weight': 2.9% higher than the UK average.
Serious health conditions: prevalence of some conditions (e.g. respiratory diseases) is nearly double the UK average. People in City West areas live up to 5 years less than in other parts of the UK.
Customers in City West areas are making behavioural choices that are putting them at risk of death and serious health conditions.
High levels of mental health issues affect City West customers considerably.
People in City West communities do not report use of outdoor spaces for health or exercise purposes.
The health-related quality of life for older people in City West communities is poor compared to England.
The UK is an ageing society which brings challenges in service delivery and a need for extra resources, at the same time as social care budgets are being cut.
14% of City West communities suffer fuel poverty and this is likely to increase.
Lack of affordable housing - in 33% of local authority areas, housing is out of the reach of low income families. Across all areas, an increasing proportion of income is being spent on rent, forcing cuts in other household areas. This in turn affects both physical and mental wellbeing.
Considerable health service funding cuts are planned for Oldham and Salford.
Care Services
There will be 24/7 extra care at this scheme. The care provider Comfort Call has a special passion for digital inclusion and looking to incorporate future technologies to improve the lives of their residents. In addition to the usual services all apartments will be wired for 2 pairs of cat 5 cabling routed back to a central control server room.
This will allow for a huge amount of voice and digital data to be sent to and out of each apartment, giving a capacity far beyond what is required now, allowing future care and other technologies to be incorporated via a central control point as and when they are required.
Facilities
This scheme includes:
a communal lounge
sheltered outdoor activities area
24/7 extra care
non-resident management staff
community alarm service
lift
dining room
restaurant
laundry
guest facilities
café
hairdressing salon
assisted bathing facility
visitor apartment
whole site is accessible via wheelchair
Key Features
Properties
66 Apartments
44 1Bed
22 2Bed
Tenure
Plans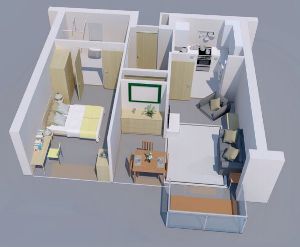 Address
2 Amblecote Drive West,
Little Hulton,
Manchester,
M38 9AA
Scheme Location Map
Partners
Housing Provider
City West Housing Trust
Architects
DK Architects
Care Provider
Comfort Call
Local Social Services Authority
Salford City Council
Developer
Bardsley Construction
Contractor
Bardsley Construction