Today marks the Housing LIN's 10th Anniversary independent of government

Did you know that 2021/2022 is the Housing LIN's 10th anniversary independent of government?
Originally part of the Department of Health's Change Agent Team and then the Care Services Improvement Partnership (CSIP), the Housing LIN was responsible for the delivery of the then Extra Care Housing grant programme and worked closely with English adult social care and NHS commissioners, housing associations, planners and developers to build local capacity to forge new partnerships and support programme delivery, facilitating an ethos of sharing learning to capture improvements and lessons learned via our networked activities.
This saw grant funding allocated to 97 specialist housing for older adults and independent living for adults with learning disabilities or autism over a 9 year period before the Coalition Government closed down CSIP in 2011.
Ten years on, this remains the largest ever sustained investment made in purpose-built affordable housing for older and vulnerable adults and saw a significant boost in the supply of housing with care in England.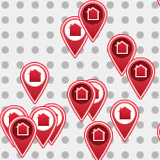 A record of the schemes (and its' successor Care and Support Specialised Housing Fund) can be viewed on the online Directory of Department of Health funded schemes hosted by the Housing LIN.
Looking back 10 years there have been a number of notable successes. They include:
commissioned to write several of the HAPPI reports for the All Party Parliamentary Group on Housing and Care for Older People, plus the recent APPG Inquiry report on housing and dementia
cited as influencing national policy development and regional developments in relation to housing for an ageing population in England, and Wales and Scotland too
organising our 'sell out' high profile Annual Summit for 300+ industry leaders to showcase sector innovation
recognised for our visionary thought-leadership, producing authoritative guidance and examples of award-winning practice, and providing market intelligence that helps inform decision making
participating in research to better understand consumer aspirations, to evaluate service improvement and/or test out new products/ways of working that advance housing for older adults and disabled people
invited to work directly with a number of organisations to provide adaptive learning and market insight to transform strategic plans and operational delivery, and
curating a highly-regarded website and rapidly adapting all our free activities to digital due to COVID-19
However, none of to these would have been possible without the bedrock of a decade of invaluable support from our sponsors and the active participation of our membership. We look forward to celebrating our 10th anniversary with you this year and planning for the future.
With thanks from everyone at the Housing LIN for your support and involvement over the last 10 years. Here's to the next decade!