This week's HLINks: 6 – 10 June 2022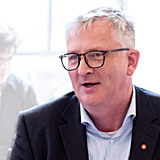 Welcome back to #Jeremytalks (opens new window) and our must-read weekly bulletin HLINks. I hope you enjoyed the long-weekend, Jubilee celebrations!
Last week, we shared a new Housing LIN guest blog by Professor Roy Sandbach OBE, TAPPI inquiry Chair, who champions the project's ten core principles and argues that constructive dialogue and delivery are two key components to meaningful innovation that will be explored as part of Phase 2, a TEC Services Association and Housing LIN collaboration, funded by the Dunhill Medical Trust.
We also hosted a HAPPI Hour with the Dementia and Housing Working Group (DHWG) who launched a new interactive, information sharing resource which pools together the existing assistance, guidance, and research on dementia. DHWG also published a drafted outline specification for providers in the private and social housing sectors to take forward Recommendation 35 of the All Party Parliamentary Group's Inquiry report, to appoint a Board Dementia Champion.
This week, we were delighted to share a new Housing LIN guest blog by Kirklees Council's Head of Housing Management & Partnerships, Michelle Anderson-Dore who reveals 'what's next' following new research findings on ethnic minority housing preferences and needs. It's also Pride Month and we'll be supporting the LGBTQ+ community by drawing your attention to our Diversity Matters resources, such as The Future of LGBTQ+ Living Leeds Survey Report published earlier this year by Pride of Place Leeds.
In other news that caught my interest, we signpost to:
Keep up-to-date with the latest on housing and care matters and register here to receive other notifications of your choice, sent direct to your inbox.
If you would like to talk to us about any matters highlighted in this week's issue, share learning about your work and/or discuss how you can engage our highly regarded consultancy services to support you, please get in contact.