The Future of LGBTQ+ Living Leeds- Survey Report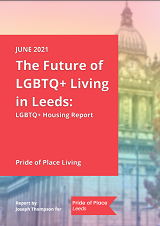 Published by Pride of Place Leeds, this report presents the findings of a survey designed by Pride of Place Living to better understand the need for a multi-generational housing scheme able to meet the needs of LGBTQ+ people in Leeds.
This need was identified in the 2017 LGBT+ Mapping Project report (opens new window), commissioned by Leeds Community Foundation in conjunction with Leeds City Council, which recommended:
'the development of an LGBT+ housing project that is intergenerational, supporting the needs of older and younger LGBT+ people in Leeds.'
The Mapping Project report also identified the need for:
'the development of an inclusive LGBT+ community centre'.
Both recommendations address the need for the provision of safer and inclusive spaces for LGBTQ+ people in Leeds that do not revolve around alcohol consumption, and the provision of safer and inclusive spaces for LGBTQ+ women; Black, Asian and minority ethnic LGBTQ+ people; disabled LGBTQ+ people; and LGBTQ+ older people.
Key findings from the survey, as outlined in this report, reveals the main attitudes and opinions the respondents held regarding the key concepts of the project
Housing that is affirmative of LGBTQ+ identities, relationships and intimacies
Housing that is multi-generational
This body of data is a valuable asset to those seeking to understand what LGBTQ+ communities want from Leeds' first purpose-built, LGBTQ+-affirmative and multi-generational housing scheme.