This week's HLINks: 29 March - 2 April 2021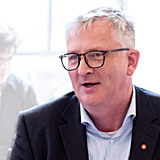 #Jeremytalks (opens new window)
Welcome to our must-read weekly bulletin, HLINks, week-ending Friday, 2 April 2021.
This week, we joined a coalition of organisations and signed up to ARCO's letter to the Prime Minister calling on a cross-government effort to expand the supply of housing and care options in the UK.
The Housing LIN has also released two guest blogs focussing on cohousing. The first by Town and UK Cohousing Network's Frances Wright outlines how cohousing developments can offer greater diversity, including offering a housing alternative for adults with a learning disability. The second is by Nottingham Cohousing's Liz Thomas in which she advocates more affordable and sustainable community-led housing to combat climate change.
In this week's HLINks, you can take a tour of other news and events on later life housing and independent living with regard to homes and communities, health and social care, design and technology, planning matters and more. In particular, we draw attention to the new Greater Manchester Tripartite Agreement, bringing housing, health and social care together; and a report from the APPG on Loneliness Inquiry, 'A connected recovery'.
We are also delighted to be a founder of the Workhome Project which has been shortlisted for the prestigious 2021 Davidson Prize, 'Home/Work – a New Future'. And, on the research front, the Housing LIN is to be part of the IMPACT consortium, led by the University of Birmingham, to develop a brand new Centre for adult social care, which will aim to put evidence into practice to promote and maintain people's independence and wellbeing.
Check all the latest news and register here to keep in touch with all our alerts and other notifications of your choice, sent direct to your inbox. And remember you can also follow us via our Twitter feeds: @HousingLIN (opens new window), @HousingLINews (opens new window) and @HLINConsult (opens new window)
Finally, if you would like to talk to us about any matters highlighted in this week's issue, share learning about your work and/or discuss how you can engage our highly regarded consultancy services to assist you, email 'Jeremy talks' at: info@housinglin.org.uk (opens new window)

Stay connected and, above all, with lockdown beginning to ease, stay safe.

Jeremy
---
In next week's HLINks
Next week we are releasing a new Housing LIN Case Study on Chimes, a new HAPPI-influenced retirement living development in Westminster, London. And watch out for the new branding on our website to mark the Housing LIN's 10th anniversary independent of government.
The Housing LIN would like to thank Willmott Dixon for their support in producing this newsletter.
Stay home, stay safe and stay connected with the Housing LIN!