A connected recovery: Findings of the APPG on Loneliness Inquiry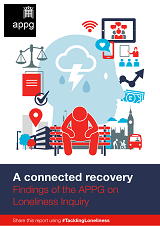 The APPG on Loneliness has launched its first independent inquiry report making the case for a 'connected recovery'.
Housing is a core component and it found that poorly designed or unsuitable housing and neighbourhoods, as well as digital inequalities, can make it hard for people to meet each other, maintain social connections and develop a sense of belonging.
The report makes 15 'loneliness proofing' recommendations and calls on the government to commit to a "Connected Recovery" from the COVID-19 pandemic, recognising the need for long-term work to rebuild social connections following periods of isolation and the importance of connection to resilience to future shocks.