A connected recovery: Findings of the APPG on Loneliness Inquiry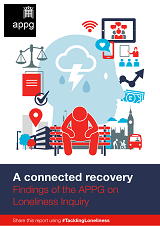 The APPG on Loneliness (opens new window) has launched its first independent inquiry report (opens new window) making the case for a 'connected recovery'.
Housing is a core component and it found that poorly designed or unsuitable housing and neighbourhoods as well as digital inequalities, can make it hard for people to meet each other, maintain social connections and develop a sense of belonging.
For example, they heard that providing people with support to maintain their homes could help them stay independent and connected.
The report states:
Supporting older people to adapt and repair their existing homes can help them stay in their communities, maintain meaningful relationships and connections with people in their local community, and a sense of belonging. This can contribute to preventing, managing and alleviating feelings of loneliness by helping them maintain positive social circles and networks.
The report makes 15 recommendations and calls on the government to commit to a "Connected Recovery" from the COVID-19 pandemic, recognising the need for long-term work to rebuild social connections following periods of isolation and the importance of connection to resilience to future shocks.
In particular, for the Ministry of Housing, Communities and Local Government it recommends it should take steps to ensure people living in existing homes are supported to build and maintain connections, by:
Reviewing its housing support policies to ensure the role of good housing in supporting social connection is taken into account;
Ensuring that all communities have access to support with minor repairs and adaptation to enable people to remain living independently in their own homes for longer;
Work with private and public sector housing developers, and experts on loneliness, including the Loneliness Lab, to develop a charter for "loneliness proofing" new developments.