This week's HLINks: 24 – 28 May 2021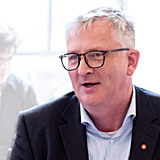 #Jeremytalks (opens new window)
Welcome to #Jeremytalks and our must-read weekly bulletin, HLINks, week-ending Friday, 28th May 2021.
I am delighted to welcome Sally Taylor-Ridgway who this week joined the Housing LIN as our digital marketing, communications and events officer. With our online presence transformed during COVID-19, Sally will play a vital role in how we reach out to members, market our services, share sector news and resources and promote our free events. For example, this week, we held the inaugural Housing LIN Scotland HAPPI Hour session, featuring the Scottish Federation of Housing Association's paper & recommendations on delivering Housing with Care & Support (opens new window) in the future.
On the publications front, we released two guest blogs: the first by Sue Weston reflecting on what she learned at last month's HAPPI Hour that explored the findings of the Archbishops of Canterbury's and York's recent housing commission report. The second is by ExtraCare Charitable Trust's Dr Michael Roberts and describes the work of their Engaged Lives project community building in their retirement villages, drawing on his 'Steps to Connection' guide..
You can also take a tour of other news and events on later life housing and independent living with regard to homes and communities, health and social care, design and technology, planning matters and more. We highlight a range of items that we think will be of interest to you, including a new report from retirement housing developer, McCarthy Stone entitled, 'Vision for Late Life in Britain'. We were also pleased that Professor Roy Sandbach, chair of our TAPPI Inquiry, was invited to present the early finding from this Dunhill Medical Trust funded project at this week's All-Party Parliamentary Group on Housing and Care for Older People meeting, focusing on technology in later life.
Keep up-to-date with the latest on housing and care themes and register here to receive other notifications on topics that matter to you, sent direct to your inbox. And remember you can also follow us via our Twitter feeds: @HousingLIN (opens new window), @HousingLINews (opens new window) and @HLINConsult (opens new window)
Lastly, if you would like to talk to us about any matters highlighted in this week's issue, share learning about your work and/or discuss how you can engage our highly regarded consultancy services to support you, email 'Jeremy talks' at: info@housinglin.org.uk (opens new window)

You can also listen to #Jeremytalks… here (opens new window)
Stay connected and, above all, with new lockdown arrangements now in place, remain safe.
Jeremy
---
The Housing LIN would like to thank Willmott Dixon for their support in producing this newsletter.