Creating a sense of "belonging" in older age
In this guest blog for the Housing LIN, Dr Michael Roberts shares the ethos behind ExtraCare's new publication: Steps to Connection.
What is it to feel a sense of "belonging" to our community?
All over the world, COVID-19 has forced questions like this upon us.
Why do we need a community so much? And what can we do to build communities that are more supportive and more caring, going forwards?
We've been reflecting on these questions at ExtraCare Charitable Trust – a registered charity that exists to create better lives for older people – and we're determined that something positive should come from all our COVID soul-searching.
This is especially important for the UK's older population who have been particularly affected by recent events, being less likely to have access to the online platforms many of us have turned to adapt to our "new normal".
So, what can we do to bring about a much-needed sense of renewal right now?
Community in Older Age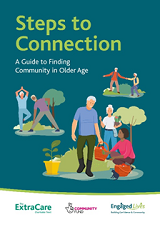 Renewal is possible when we start to question our beliefs about older age.
Contrary to popular assumptions amongst younger people (see here (opens new window)), alienation from peers and family is not an inevitable symptom of getting old. In fact, later life often presents increased opportunities for connection, once the business of working life and child-rearing is over. And ExtraCare want to raise awareness of these and empower individuals to take them with our new book Steps to Connection.
Steps to Connection is a first-of-its-kind "guide book" aimed at older people seeking to build community and emerges from our lottery-funded "Engaged Lives" project, which supports residents of our retirement villages and the wider community to overcome personal obstacles to connection.
The Engaged Lives Project Ethos
Before the pandemic arrived, the Engaged Lives project brought older people together in workshops to explore topics and techniques on the theme of community, creating a space for people to share their stories, advice and encouragement with each other.
Central here was the desire to support long-term community.
Rather than just offering temporary solutions whose effects would disappear when funding ended, we wanted to address root causes of social isolation and loneliness in older age. And to do this, people who attended our workshops were encouraged to explore topics like:
Positive ageing
Changing our thinking
Creating purpose
Building confidence and resilience
We believe it's imperative to help individuals reflect on their habitual thinking patterns and behaviours, if we are to support a sense of "belonging" that enables a community to sustain itself in the long-term. Unless root causes are addressed, the symptoms just come back.
What is it to "Belong" Somewhere?
Belonging isn't guaranteed by simply occupying the same spaces as others – even if we see the same people day after day. Friendly small-talk amongst people we recognize is nice, but it's not enough.
To feel we belong, we need a sense that we are valued and understood by those we share our lives with. We need to opportunities to support others, to connect with them on a personal level, and to feel that other people are there to offer us this too, when we need it.
If we are understood, recognized, and valued – and crucially able to create intimate relationships built upon vulnerability and support – then we experience a sense of solidarity in helping each other through life's challenges, which crucial to feeling belonging as captured in this YouTube video (opens new window). The Housing LIN consider this as part of forging greater connectedness and what it terms "CollaborAGE". We are pleased to see that Steps to Connection is cited in their Directory as an example of collaborative practice.
How Steps to Connection helps to create belonging.
In 2020, when, it became difficult to bring people together for our workshops, we decided to turn their materials into a book, knowing that we could support a much wider range of people through this.
As with our workshops, Steps to Connection introduces readers to a variety of community-building tips and interactive exercises, all centering around the drive to support belonging in older age.
To do this, the guide places special emphasis upon being honest about feelings surrounding community and focuses on the improving the quality and intimacy of relationships, as well as simply their number.
With materials on "Everyday Kindness" and "Supporting Others", Steps to Connection helps people discover small words and gestures through which they deepen their relationships. This means helping people to be vulnerable – to be confident enough to share real thoughts and feelings. It also means encouraging people to ask others for help when they need it, so the whole community knows that it has opportunities for meaningful connection on its doorstep.
The book reminds us that small, kind gestures often makes the biggest impact. These might involve taking extra steps to get to know your neighbours, helping someone to get out of their house to visit the dentist, or sharing cooking with someone down the corridor. It might also mean expressing thankfulness to those around us, offering to help look after people's pets, fill in forms or simply be a listening ear in someone's time of need.
By encouraging reflection on the effects of our actions, and exercises in mindfulness and gratitude, Steps to Connection helps readers to muster the motivation and emotional resolve needed to deepen their intimacy with others and find opportunities for mutual support.
At ExtraCare Charitable Trust, we don't want to go back to normal as the COVID-19 pandemic subsides, we want to return to something better, kinder and more supportive. And we hope this book can empower older people to be a part of that change, fostering small actions from caring people that build communities of real belonging.
---
Dr Michael Roberts is the Engaged Lives Project Officer at ExtraCare Charitable Trust (ECCT), helping to build community in their villages. He is also a Meditation Teacher and also author of ECCT's publication, Steps to Connection. Click here (opens new window) to purchase a copy of the publication, or make contact through steps.connection@extracare.org.uk
If you found this of blog interest, check out other relevant resources on CollaborAGE, co-production and community approaches curated by the Housing LIN.
Lastly, if you would like to find out more about how the Housing LIN can support you develop your housing for older people strategic vision and/or operational plans to meet the future accommodation needs of older adults, please email us at: info@housinglin.org.uk