This week's HLINks: 15 - 19 February 2021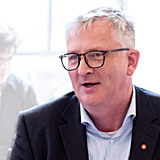 Welcome to #Jeremytalks and my weekly piece to audio to coincide with our must-read weekly bulletin, HLINks, week-ending Friday, 19 February 2021.
This week we have been consumed by the launch of the All Party Parliamentary Group (APPG) on Housing and Care for Older People Inquiry report on housing and living with dementia. Over 220 people attended the online event chaired by Lord Best and Peter Aldous MP and hosted by the Housing LIN. We were all inspired by author Wendy Mitchell, who had shared her own experience of dementia in her evidence to the Inquiry, as she told those watching, "if you get the housing right for people with dementia, you get it right for so many others".
Written by the Housing LIN's co-dementia lead, Katey Twyford, and Chief Executive, Jeremy Porteus, Housing for people with dementia – are we ready? is packed full of top tips, good practice and policy and funding recommendations, including reframing the original 10 HAPPI design principles for dementia-readiness.
In this week's round up of other news from the Housing LIN, we also released a guest blog by Tetlow King Planning's Managing Director, John Sneddon, on the recent government consultation so a National Draft Design Code and proposed reforms to the planning system
In this week's HLINks, you can also take a tour of other news and events on later life housing and independent living with regard to homes and communities, health and social care, design and technology, planning matters and more, including two new reports relevant for our sector. The first is a discussion paper by SCIE on 'Future options for housing and care' and the second from the ILC-UK is entitled, 'What we want: Future-proofing retirement housing in England'.
Check these out and register here to keep in touch with all our news alerts and other notifications of your choice, sent direct to your inbox. And remember you can also follow us via our Twitter feeds: @HousingLIN, @HousingLINews and @HLINConsult

Finally, if you would like to talk to us about any matters highlighted in this week's issue, share learning about your work and/or discuss how you can engage our highly regarded consultancy services to assist you, email 'Jeremy talks' at: info@housinglin.org.uk

You can also listen to #Jeremytalks… here

Thanks for listening, stay connected and, above all, be safe during lockdown.

Jeremy
---
In next week's HLINks
And, in next week's news, we look forward to our latest HAPPI Hour on community-led housing with Leigh Pearce, Nationwide Foundation's CEO along with researchers from the LSE, University of Bristol and the Wales Cooperative Centre. To coincide with this HAPPI Hour, we will be publishing a new Housing LIN Viewpoint by Jim Hudson et al on their research and a Welsh guest blog by Claire White.
Lastly, the Housing LIN would like to thank Willmott Dixon for their support in producing this newsletter.
Stay home, stay safe and stay connected with the Housing LIN!