A new ILC-UK report into future-proofing retirement housing in England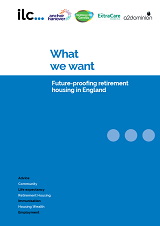 The supply of retirement communities needs to be boosted by a third over the next 20 years to keep up with demographic change, according to latest research by the International Longevity Centre.
The report makes the case that there remains significant scope for the sector to grow and to feature more prominently in the typical path through later life. In particular, it highlights a variety of trends that will shape how future demand for retirement communities may evolve over the next 20 years. These include: demographics, finances and consumer preferences.