This week's HLINKs: 4 - 8 October 2021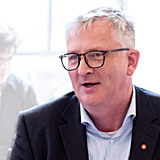 Welcome to #Jeremytalks (opens new window) and our must-read weekly bulletin, HLINks (opens new window), week-ending Friday, 8 October 2021.
This week we were thrilled to announce that we are recruiting for the 2nd cohort of our Future Leader programme. Sponsored by Thirteen Group, we are looking up to 10 early career professionals to join our exciting programme next year. Deadline for submissions is Friday, 5 November at 5pm. We look forward to announcing the successful applicants at our Virtual Summit in early December.
In other news, the Health Secretary, Sajid Javid, speaking at the Conservative Party Conference this week said, "health and social care begins at home". He went on to call for seamless integration between health and social care and the need to embrace innovation and digitisation. To coincide, two timely Housing and Ageing Alliance (HAA) blogs reveal how crucial housing is to at home care and support.
The first by HAA chair and Care & Repair England CEO, Sue Adams, sets out how integration of housing can help hospital systems and deliver greater benefits to residents. And, in the second HAA blog, I write about technology-enabled care and housing and the need for better digital integration across housing, health and social care, something that the forthcoming TAPPI inquiry report will spell out in greater detail later this month. You can book your free place for the online launch event on the afternoon of 26 October, here.
Staying with technology, this week we also published a Housing LIN blog by Housing 21's Laura Francis called 'Let's discover IT' in which she shares information on the programme she has developed for residents and staff.
And if you missed this week's HAPPI Hour with Dr Anna Dixon and guest speakers from MHA, Community Circles, ExtraCare Charitable Trust and Age UK Bristol on 'Reimagining Care' as part of the Archbishops' Commission she is chairing, you can watch the session again, here. And next week's HAPPI Hour is on Passivhaus and low carbon housing. Register now!
Other new resources that caught our interest this week included:
And lastly, keep up-to-date with the latest on housing and care matters and register here (opens new window) to receive other notifications of your choice, sent direct to your inbox. And remember you can also follow us via our Twitter feeds: @HousingLIN (opens new window) , @HLINComms (opens new window) and @HLINConsult (opens new window)

If you would like to talk to us about any matters highlighted in this week's issue, share learning about your work and/or discuss how you can engage our highly regarded consultancy services (opens new window) to support you, email 'Jeremy talks' at: info@housinglin.org.uk (opens new window)

Stay connected and, above all, remain safe.

Jeremy
---
The Housing LIN would like to thank Willmott Dixon for their support in producing this newsletter.