Let's Discover IT – free internet resources to inspire residents
Digital Inclusion is high on the agenda for most Extra Care and Retirement Housing associations. A recent Centre for Ageing Better item (opens new window) on digital inclusion confirms why this is the case:
"Although the number of older people who are digitally connected continues to rise, there are still around 5 million people over the age of 55 who are not online. And while factors such as income and levels of education play a part, age is still the biggest indicator of who's digitally excluded"
The process of ensuring older people in Extra Care and Retirement Housing have access to digital technology and access to the internet involves not only obtaining the hardware and supporting technology, but also the resources to engage and inspire residents to become confident users of the internet.
At Housing 21, Court Managers have expressed a desire for having resources readily available where groups of residents could explore the internet, have fun together, learn something new or revive old interests.
I thought about having a dedicated website with a variety of topics to explore and to obtain user's suggestions and recommendations that would add to the website content and provide a sense of community too.
To address this, I developed a website to:
enable Court Managers to offer opportunities for residents to engage with IT on courts
encourage residents to 'have a go' and join with others
utilise computer equipment and devices already on site at many courts
assist Court Managers with communal activities ideas and involvement
offer a 'club' style weekly session for residents
offer fun topics that will inspire, delight, encourage and broaden users' horizons
After consultation with residents and several 'road testers' who kindly advised on format and content, Let's Discover IT was launched in May 2021.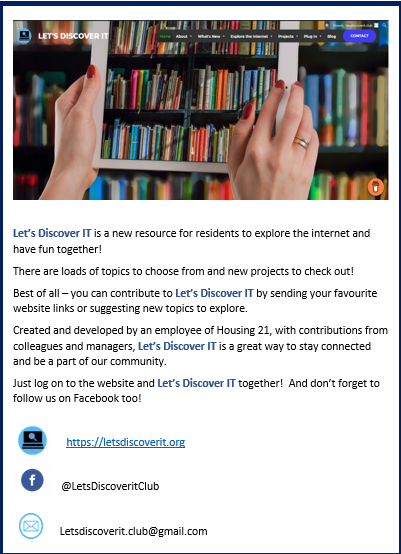 Let's Discover IT - what does it do?
allows for reluctant IT users to participate at whatever level they are comfortable with
is accessible for people with disabilities
can be used at coffee mornings, afternoon get togethers, Computer or IT Clubs
can be used in small groups, or on an individual basis
users can get involved by making suggestions
evolving programme will mark seasonal changes, calendar events, special interests, world affairs and cultures of our world
can broaden participants interests about a wide range of topics
offers lifelong learning and supports individual wellbeing
is easy to access – many residents have a tablet, laptop or smart phone from which to take part
Let's Discover IT has developed over the past few months to include suggestions from residents and Court Managers, such as:
Exercise Videos (professional chair based and standing options)
Line Dancing ('how to' and dance together videos)
Learn British Sign Language
Healthy Eating, Easy Recipes
Working with Housing 21 and the Love Food Hate Waste initiative
Virtual Holidays (take a trip to the English Seaside or how about Florida?)
Games and Puzzles (Word Searches, Crosswords, Sudoku, and much more)
Crafts and craft ideas for fundraising
Top Tips for using your computer, tablet, iphone or, ipad
Celebrating cultures from around the world
Days Out – explore museums, music and the arts from all over the world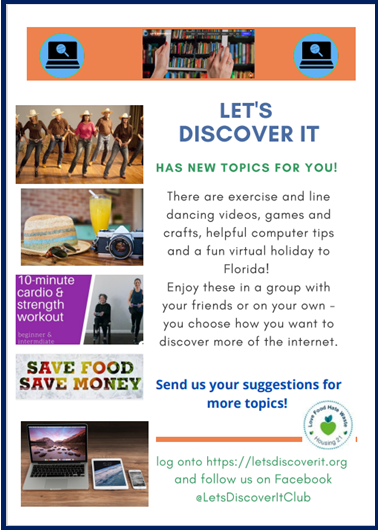 I am pleased to report that feedback from our residents and Let's Discover IT 'friends' has been constructive and positive.
Additional topic suggestions will be added to the website on a regular basis. Visit India, Bollywood Hollywood, Bon Fire Fun and Christmas Crackers are just some of the upcoming topics to be added in the next few weeks as well as new lifelong learning projects too.
I hope that the community of Let's Discover IT friends will grow and along with this growth, more suggestions and recommendations for new topics and favourite website links too.
The input from a variety of housing associations and user groups whether local, national or international, will help to make this collaborative, digital inclusion project a unique resource for all and can open doors to new worlds for residents and their family and friends too.
---
For more information about the making of this project contact Laura.Francis@housing21.org.uk or Letsdiscoverit.club@gmail.com
For more about Let's Discover IT, visit: https://letsdiscoverit.org/ (opens new window)
And, if you found this blog of interest, you can also read a range of other resources on housing and technology, including about the TAPPI Inquiry, on the Housing LIN's dedicated webpages.
Lastly, if you would like to find out more about how the Housing LIN can provide you with bespoke support or would like to contribute a guest blog on your personal or professional experience, please email us at: info@housinglin.org.uk