This week's HLINKs: 15 - 19 November 2021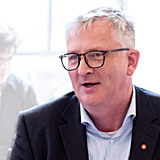 Welcome to #Jeremytalks (opens new window) and our must-read weekly bulletin, HLINks (opens new window), week-ending Friday, 19 November 2021.

This week saw a triple bill of reports come out that are highly relevant to Housing LIN members.
The first by the Housing LIN Consultancy and research undertaken for the Almshouse Association that shows the significant financial benefits of almshouses within local economies. This was formally launched yesterday at the APPG on Almshouses meeting, and you can now read the report.
We were also proud to sit on the Dunhill Medical Trust funded SCIE Commission on the Future of Housing and Care. It published its report this week making a number of key recommendations for Government, including creating a national long-term vision and strategy for housing with care and for older people. I was pleased to be invited to say a few words at the launch on Monday.
And ARCO, the trade body for retirement community operators, released their report Putting the care in housing with care. The report explains why and how Integrated Retirement Communities can provide care more effectively and efficiently.
The value of good quality housing with care for older people was further outlined in a new Housing LIN Inspirational Achievement published this week featuring the new EMH extra care development, Springfields, in Ashby-de-la-Zouch, Leicestershire. This also coincides with EMH's 75th anniversary!
You can also join EMH's Chris Jones at next month's Housing LIN's virtual Summit - A Festival of Ideas - to find out more. He will be presenting in a session on Reimagining retirement living - a new look at older people's housing? on Tuesday, 7 December 2021 from 10am.
Other news, views and resources that caught my interest this week include:
Lastly, it was #LongevityWeek this week and I was privileged to chair a Panel Session at UKRI's Healthy Ageing 2021 virtual conference on Monday. I was joined by the University of Stirling's Dr Vikki McCall; Connected Places Catapult Director, Erin Walsh; The Chair of The Good Home Inquiry, David Orr; and the CEO of the London Rebuilding Society, Naomi Kingsley, in the session, Transforming Homes - Adaptable Spaces for Healthy Places.
Keep up-to-date with the latest on housing and care matters and register here (opens new window) to receive other notifications of your choice, sent direct to your inbox. And remember you can also follow us via our Twitter feeds: @HousingLIN (opens new window), @HLINComms (opens new window) and @HLINConsult (opens new window).

If you would like to talk to us about any matters highlighted in this week's issue, share learning about your work and/or discuss how you can engage our highly regarded consultancy services (opens new window) to support you, email 'Jeremy talks' at: info@housinglin.org.uk (opens new window)

Stay connected and remain safe.

Jeremy
---
The Housing LIN would like to
thank Willmott Dixon for their
support in producing
this newsletter.