Putting the 'care' in Housing-with-Care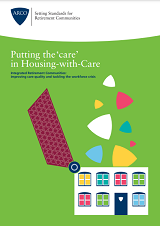 This report has been produced to analyse the quality, efficiency and benefits of social care provided by Integrated Retirement Community operators in the UK, and says that Integrated Retirement Communities are key to avoiding care system collapse and tackling care worker crisis.
It has found that Integrated Retirement Communities are essential to preventing the UK's social care system collapsing and could reduce the care staff shortage by 60,000 – but only if the sector is given the backing to grow to levels seen in New Zealand, Australia and the US.
The report says care can be provided more effectively and efficiently in Integrated Retirement Communities due to staff giving care to residents onsite and not needing to travel in between visits, and because many residents require less care after moving in due to health and wellbeing improvements.
The report compares the care and support requirements of people living in Integrated Retirement Communities with those living in dispersed family homes, and calculates that, for a typical Integrated Retirement Community with 200 people living there, 16 fewer care staff are needed than if the same levels of care were provided in the wider community – freeing up staff to provide care to those who need it elsewhere.
The findings come after charity Skills for Care recently estimated that 490,000 additional social care staff would be required by 2035, if current trends in the growth of the over-65 population continue.
As well as highlighting the important role that Integrated Retirement Communities have in tackling these workforce challenges, the new report by ARCO finds that care quality in Integrated Retirement Communities stands well above average.
The quality care provided in Integrated Retirement Communities helps residents stay independent, healthy and well for longer, and to cut NHS and social care costs. Research shows that these settings provided a safer place for older people during the pandemic than living in family home.