Emh group, which is celebrating its 75th birthday this year, provides affordable homes and related care and support services to communities across the East Midlands. Enabling better lives is at the heart of everything we do. We help vulnerable people live an enjoyable, independent life by advocating on their behalf or by providing activities, support, care and housing that attends to their needs.
Creating a feeling: Springfields leaps forward in extra care
One of our most recent inspirational achievements is an exciting new development, Springfields. Recently opened, this extra care housing scheme offers affordable state-of-the-art homes and support for later life in Ashby-de-La-Zouch (Ashby), the popular Leicestershire spa and market town in the heart of the National Forest.
The development has 53 self-contained, wheelchair-accessible one-bedroom and 12 two-bedroom apartments, making a total of 65 homes. Fifty apartments are for let at social rent, with the remaining 15 available for up to 75 per cent shared ownership. Once a shared owner reaches this maximum level of equity, they no longer have to pay rent on the remaining 25 per cent share. The designs and materials are 'tenure neutral', with every home built to the same standards regardless of whether it's for rent or sale.
The development maximises people's wellbeing and independence, community engagement, environmental gains and local social impact. It is designed with space, light, comfort, personal safety and security in mind resulting in a smart and flexible new home that can change with the resident as their requirements change.
Check out this drone footage of the Extra Care housing scheme, Springfields. (opens new window)
Made possible by the partnership between emh, Homes England and North West Leicestershire District Council, the £12.5m scheme, designed by architects BRP and built by Willmott Dixon, Springfields meets the urgent need for high-quality, modern homes with support, and is already proving popular.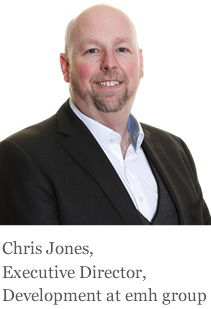 "A major development like this requires strong and trusted relationships, and we are delighted to be working with Willmott Dixon, North West Leicestershire DC, and other partners to deliver our most ambitious project to date. With Springfields we are creating a modern community in the heart of the National Forest, a vibrant place supporting and promoting health and wellbeing."
"One of our key priorities as a council is that local people live in high quality affordable homes, and we do this in a range of ways - from building our own council housing to supporting excellent schemes like Springfields. This scheme will be significant in terms of providing housing for people with support needs and I am looking forward to seeing the new homes built and lived in by local people."
"We have been working closely with emh to make sure we are creating a scheme that is going to make the local community proud. To do this we are investing £1.25m back into the community through projects and initiatives. We will be supporting apprenticeships and their development, and running an enrichment programme with children at a local secondary school as well as a ten-week traineeship with Stephenson College, where students will gain employability skills and on-site work experience. At Willmott Dixon, we have a purpose beyond profit and that includes being passionate about leaving a lasting legacy, something that this project will provide for many years to come."
"You should be commended for this building. It's amazing, it looks like a luxury hotel."
Engaging and inspirating residents
Ashby is one of the most popular and vibrant towns in Leicestershire. With a rich heritage and much to offer residents and visitors alike, Ashby has local amenities and facilities expected of a modern town, while retaining its original charm and character.
We have taken inspiration from Ashby's nature and history to produce 65 self-contained homes that 'create a feeling' dedicated to health and wellbeing, with the sense of security, reassurance and quality of life that comes from a good, suitable home in a diverse and thriving community.
The apartments and communal areas have been designed and built to enable residents to live as independently as possible.
Key features include:
Wheelchair access and mobility aids.
Video door entry system.
Individual secure entrances.
Fibre optic broadband for residents to enjoy all things digital.
Dedicated team of staff available 24 hours a day throughout the year.
Person-centred, flexible packages of care and support, tailored to individual needs to enable residents to stay living at home for as long as possible.
French doors on ground floor apartments and balconies on the upper levels for increased natural light.
An extensive range of communal facilities, including bistro, hairdressing and beauty salon, communal lounge, and landscaped communal garden.
Simple but effective conveniences such as salto door locks, walk-in showers, easy turn taps and ThermaSkirt heating.
Sprinkler systems through the communal areas and in each apartment that meet current fire safety regulations.
Pendant alarms to give residents and families peace of mind.
In the wider community there is a GP's surgery nearby and a range of shops and amenities in Ashby's town centre which is approximately 1 mile away.
View the floor plans (opens new window) or take a virtual tour of two of the apartments types (opens new window) at Springfields.
Despite the challenges of the pandemic, emh provided resilience; striving towards a project that puts the needs of the residents they serve above all else. That's why, Springfields was recently shortlisted for the Inside Housing Development Award 2021 (opens new window) in the Best older people's housing development (rural and suburban) category.
A partnership to meeting local needs and demand
The development is part of emh's ongoing strategy to meet the needs identified in the Local Plan, which estimates that by 2031 more than a quarter of the district's population will be aged over 65. To ensure the homes are allocated to those most in need, there is a local connection requirement and a strategic allocations agreement with Leicestershire County Council and local authority. In order to generate extra social value, the whole project was contracted through the Procurement Hub framework, which focuses on creating positive impact for local people.
This will mean that ten per cent of the total value (equivalent to around £1.2m) is being invested into local projects concentrating on young people previously not in education, employment or training. This includes seven apprenticeships, an enrichment programme with a local secondary school and a ten-week traineeship with Stephenson College for students to gain employability skills and on-site work experience. Eighty-seven per cent of the labour involved in construction is local, and 93 per cent of sub-contractors and suppliers engaged on the project come from the locality.
Building a balanced and vibrant community
The homes at Springfields are open to anyone aged over 55 and to younger people receiving care or support for a long-term physical or mental disability or condition (for example, former military servicemen and women).
"It is a unique development in that it is not age restricted. For people under the age of 55 the only requirement is that you have a care or support need, which could be as little as three hours a week. This makes it ideal for, say, younger people with learning or physical disabilities currently living with parents who want to become more independent and have their own home."
Our apartments are for people who, while growing older or requiring additional support, still value their independence, but within a safe space. Older people with little to no care needs can relax, knowing that general day-to-day responsibilities like external property maintenance and gardening are all taken care of.
Everything about the location, design, facilities and management of the scheme is focused on boosting residents' health, wellbeing and independence. It encourages active lifestyles and social contact while providing peace of mind, flexibility, choice and control.
And finally
emh group are proud to sponsor the Housing LIN.
If you enjoyed this #inspirationalachement page, you can find out more about Springfields, here. (opens new window)
#InspirationalAchievement (opens new window)