Finalists for EAC's Housing for Older People Awards 2019 announced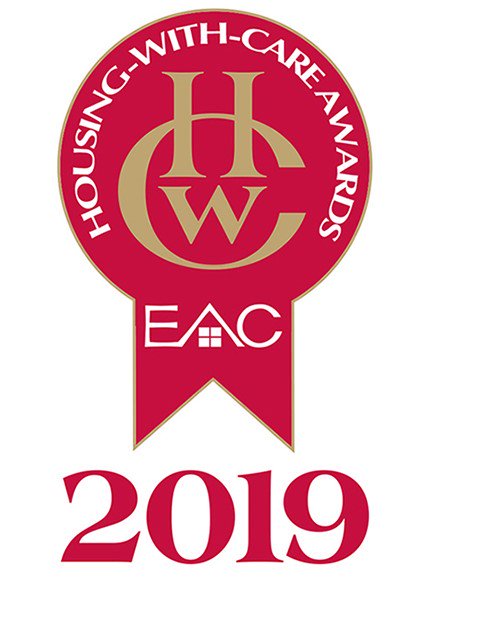 Organised by EAC, this week saw 300 regional awards made public. And a further 36 national awards in total will be won at the awards ceremony (opens new window) to be held Tuesday, 21 May 2019 in Manchester.
In their 8th year, an impressive 19,331 residents took part in the nomination process across a range of categories reflecting the diverse range of purpose-built housing for older people up and down the breadth of the country.
Jeremy Porteus, Chief Executive of the Housing LIN, praising the successful regional selections, said:
"The Housing LIN has been a long-term supporter of these awards and is proud to sponsor the Housing-with-care 56 units and over category. There were an amazing 26 in this regional category this year. Whether bronze, silver or gold, they are all winners!"
The regional winners are as follows:
East Midlands
Gold: Parkland Views, Derby, Derby Homes
Silver: Lark Hill Village, Nottingham, ExtraCare Charitable Trust
Bronze: No award
East of England
Gold: Bircherley Court, Hertford, Network Homes
Silver: Doddington Court, Cambs, Sanctuary Retirement Living
Bronze: Hawthorns, Braintree, Hawthorns Retirement Housing Group
South East
Gold: Swift House, Maidenhead, YourLife Management Services
Silver: Clemant House, Bracknell, Silva Homes
=Bronze: Denham Garden Village, Denham, Anchor Hanover; and Hughenden Garden Village, High
Wycombe, ExtraCare Charitable Trust
North West
Gold: Village 135, Wythenshawe, Wythenshawe Community Housing Group (also a Housing LIN case study)
=Silver: Anderton Place, Northwich, The Guinness Partnership; and Willow Bank Court, Poulton, Housing & Care 21
Bronze: Heysham Gardens and Heysham Meadow, Carlisle, Eden Housing Association
Yorkshire & Humber
Gold: Royd Court, Mirfield, Pilgrims' Friends Society
Silver: Jazz Court, Scarborough, Sanctuary Retirement Living
London
Gold: Cheviot Gardens; West Norwood, Notting Hill Housing
Silver: Bankhouse, Vauxhall, Seasons Senior Living
Bronze: No award
North East
Gold: Tree Top Village, Newcastle, Your Homes Newcastle (also a Housing LIN case study)
Silver: Dovecote Meadow: Sunderland, Housing & Care 21
Bronze: No award
South West
Gold: Woodchester Valley Village, Inchbrook, Woodchester Valley Village (also a Housing LIN case study)
Silver and Bronze: No awards
West Midlands
=Gold: Oakley Gardens, West Bromwich, Housing & Care 21; and West End Village, Stoke, Staffordshire Housing Association
=Silver: Queensridge Court, Oldbury, Housing & Care 21; and Terryspring Court, Redditch, Midland Heart Housing Association
Bronze: Mill Rise, Newcastle-on-Lyme, Aspire Housing Ltd (also a Housing LIN case study)
Scotland
No category award this year, but do check out our new Housing LIN Scotland webpages
Wales
Gold: Llys Enfy, Cardiff, Linc Cymru Housing Association
Silver and Bronze: No awards