The 'spirit of living' in Woodchester Valley Village: Reflections on life in Britain's first mutually owned retirement village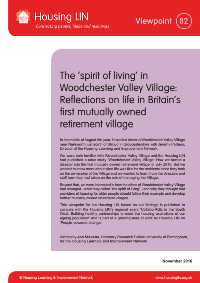 This new Housing LIN Viewpoint no 82 is published to coincide with the Housing LIN's regional event in the South West: 'Building healthy partnerships to meet the housing aspirations of our ageing population'. It offers personal accounts into what life has been like for the residents since they took on the ownership of the Village and provides insights from the directors and staff how they had taken on the role of managing the Village in later life.
It builds on an earlier Housing LIN case study, Woodchester Valley Village: How we turned a disaster into the first mutually owned retirement village (opens new window) and is part of a growing area of work by Housing LIN on 'People-powered change'.