HASAA - Practice: issues and guidance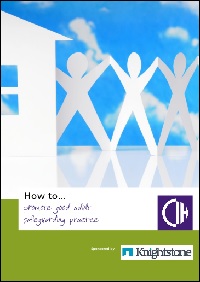 The Derbyshire Matrix tool (pdf - 0,7MB)
The Derbyshire Matrix tool supports those involved and their advocates and carers to navigate the statutory Safeguarding process. A framework to prompt and to progress the asking and answering of necessary and difficult questions, it also encourages professionals to create appropriate circumstances for these conversations to take place.
Knightstone Safeguarding Annual Review For 2016 (pptx - 4MB)
This presentation on Knightstone's Safeguarding Annual Review gives an idea of the safegaurding data housing providers might be advised to routinely collect. Housing provider members of the Alliance are planning to develop a data collection template.

A guide for staff on promoting sexuality, relationships and consent in housing with care services (pdf - 0.52 MB) (opens new window)
This guide focuses on older people, sexuality, intimacy and relationships in housing with care. It looks at non-sexual and sexual relationships and individual sexual behaviour. This is not an easy subject and each case is unique, but this guide aims to steer you through how to respond and think about situations of this nature. Just because a person is old, it does not diminish their desire for companionship, intimacy and love and yet often this basic right may be denied, ignored or stigmatised. Older people in housing with care who wish to and are capable of expressing choice, should be supported to develop or maintain any relationship of their choosing.

Making safeguarding personal temperature check (pdf - 1.85 MB)

(opens new window)

Providers are unsure what safeguarding data they should collect in order to be able to respond to SAB requests for information. This report commissioned by ADASS outlines where councils are in terms of implementing Making Safeguarding Personal and it includes some information about data collection.

Three key questions may be:

Has the adult/ their advocate given consent for the safeguarding enquiry to proceed?
Has the adult outlined what outcomes they'd like to achieve from safeguarding
Were these outcomes were fully or partially met?

Safeguarding in light of the Care Act: Leaders Briefing (pdf - 0.99Mb)
RiPfA have kindly agreed to share this Leaders briefing with HASAA. Researched and written by Michael Preston-Shoot, it provides an excellent overview of the safeguarding provisions of the Care Act 2014. Although targeted essentially at councillors, chief executives and senior managers of adult social authorities, it also has relevance to managers in the housing sector who need an understanding of the new framework, what they can expect from the local authority and their own organisation's role.
Amy and James Serious Case Reviews
Serious Case Reviews, concerning the preventable deaths of two people with learning disabilities, have highlighted lessons for support and supported housing providers. These lessons and an extract have been summarised, and can be accessed below:
CIH good practice briefing: 'How to ...promote good adult safeguarding practice' (pdf - 3.24Mb)
Published in March 2015, and sponsored by Knightstone, this briefing from the Chartered Institute of Housing explores the policy and practice within a housing setting of protecting adults with care and support needs from neglect or abuse. It provides key facts, gives good practice examples that address a range of issues and signposts to additional resources.
Housing and Adult Safeguarding - A brief background paper (pdf - 647Kb)

(opens new window)


Written by Imogen Parry, this paper is intended to brief readers on the issues regarding housing and adult safeguarding. Issues are cross referenced to related research and publications and include: lack of regulation, high numbers of vulnerable tenants, drivers to engage in safeguarding, housing representation on SABs, how housing providers can improve their engagement.
Addressing the neglected role of housing in adult safeguarding (ppt - 258Kb)

(opens new window)


In this February 2015 presentation, Imogen Parry draws on quotes from a range of key sources, including serious case reviews, to illustrate the neglected but essential role housing providers have in safeguarding vulnerable adults and key lessons to be learned.
Care Act - The Role of Housing in Safeguarding Adults - Nov 14 (pdf - 544Kb)

(opens new window)


Joanna Cambra, of Sutton Housing Partnership and Chair of the Alliance outlines what housing providers should be doing about safeguarding. She draws upon the Care Act 2014 and guidance as well as other sources, and describes what her organisation is doing to address the safeguarding agenda.
Together Housing Group Safeguarding Adults Policy and Procedures
The two papers below were updated in October 2015. Originally written in March 2014 before the Care Act came into force the Together Housing Group Policy and Procedure provides an example of the approach a general needs housing provider should take to guiding its staff in safeguarding vulnerable adults with whom the organisation works.
Housing and adult safeguarding (pdf - 619Kb)

(opens new window)


This information pack by Imogen Parry, Independent Safeguarding Adults Consultant and Trainer for the Housing Sector, includes an abstract of her dissertation 'Adult Serious Case Reviews: lessons for housing providers' and a list of her published articles in 2013 on housing and safeguarding.