Older People from Ethnic Minorities Housing Needs & Perception Study 2021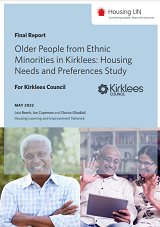 As part of the Council's commitment to tackle inequalities and with the number of older people in Kirklees projected to increase by 40 per cent over the next ten years, Kirklees Council collaborated with Housing Learning and Improvement Network (LIN) and local residents to deliver an independent study into the housing needs of older people from ethnic minorities from across the district.
We knew the findings would be vital in assisting the council and its partners in providing a truly inclusive housing and support offer, meeting the needs of all older people across the district.
Carried out in 2021, the study successfully engaged around 500 participants from our most ethnically diverse communities. As the council's lead for the study, I was particularly enthused by the different ways local residents could and did engage, by post, joining virtual focus groups and at local venues such as mosques, with the support of local representatives.
The study identified housing issues that are important to people as they grow older, such as home ownership and made the council aware of the stigma linked to 'housing for older people', which for many still means 'a care home'.
I was reassured, however, that many of the 'asks' from local people are well within the reach of the council and partners to deliver. Aids and adaptations to help people remain in their own homes for longer, and better access to information about the full range of housing types and rental options.
The findings also identified some differences in terms of housing older people from ethnic minorities. Greater access to cultural and/or religious amenities was important and the need for more culturally competent service providers were among the responses. Several people also felt it was important that older people from ethnic minority communities, and their representatives, can be directly involved in the development of new housing and services.
A sounding group made up of local residents was also key to the success of this work. The group's insight, advice and support on all research materials and publicity was invaluable as was their help to identify further participants for the study, extending our reach. The group want to remain engaged, as we start to respond to the study findings, showing the strength of commitment that exists among citizens of Kirklees in supporting this agenda!
So, what next? In Kirklees, our current focus is very much on the 'so what' element of the study. Where do we go from here and how do we ensure the valuable insight into the housing needs of older people from ethnic minorities is used appropriately?
Wherever possible, we want to make sure the recommendations are taken on board, and where we cannot do this, that we explain our reasons why. We also want to embed the findings into relevant workstreams and programmes such as the ongoing review of housing allocations, the review of our council-owned retirement living schemes, and as part of wider consultation on the Dewsbury Riverside housing development and other developments such as the new Ashbrow Extra Care Housing scheme in Huddersfield, expected to be completed in early 2023.
We are also keen to share the results with commissioned providers to support our commitment to developing more culturally competent services. And we cannot forget that this work will also complement the council's tackling inequalities programme.
To end, I would like to thank colleagues from the council who worked with me on the study, as well as the Housing LIN and the local community for contributing to the success of this work. In doing so, we are helping Kirklees to build a strong, lasting legacy of belonging for all local communities to feel proud of.
---
You can access the full Housing LIN's report for Kirklees Council, here.
And, if you found this blog of interest, do also have a look at the dedicated pages on diversity matters curated by the Housing LIN.
Lastly, if you would like to find out more about how the Housing LIN can provide you with bespoke support, please email us at: info@housinglin.org.uk or look at our consultancy page.