New research reveals how preferences in the ageing ethnic minority population affects housing needs in Kirklees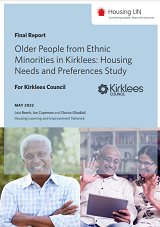 The Housing LIN was pleased to work alongside Kirklees Council on the 'The Older People from Ethnic Minorities (OPEM) in Kirklees: Housing Needs and Preferences Study' that revealed how preferences in Kirklees' ageing ethnic minority population affects housing (and housing related support) needs across the district.
Using the evidence from this research, a series of recommendations have been developed in collaboration with the Council. The recommendations have been categorised into three key themes (Place, People and Services) and will help inform decision making and the delivery of mainstream and specialist housing and support services suited to older people from ethnic minorities now and over the next 5 to 15 years.