Welsh Government consultation on draft Housing Support Grant guidance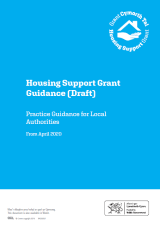 The Welsh Government are consulting on draft practice guidance for the Housing Support Grant (HSG) for local authorities.
The HSG encompasses both the statutory homelessness duty in Wales and the non-statutory revenue housing support preventative services funded through the Welsh Supporting People programme. The purpose of this consultation is to seek views on the new draft practice guidance which has been produced by the Welsh Government in partnership with external stakeholders. The guidance sets out the governance framework in which local authorities should operate and administer the grant from April 2020.
The closing date for response is 29 November 2019 by completing the online form or completing the questionnaires and sending it to SupportingPeople@gov.wales