Welsh Government Integrated Care Fund Guidance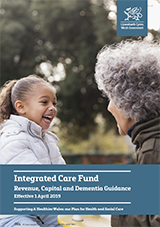 The fund helps health boards and partners in:
local authorities
housing
the voluntary and independent sectors.
to work together to support:
frail and older people
people with a learning disability
children with complex needs due to disability or illness
carers, including young carers.
It helps support older people to maintain their independence and remain at home, avoiding unnecessary admissions to hospital or residential care and delays when someone is due to be discharged from care.
The fund is also being used to support the Integrated autism service, the Welsh community care information system, and the Dementia action plan.