Warm Homes and a Safe Environment: How government and the housing sector can work together to tackle climate change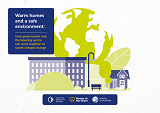 This briefing considers what the housing sector needs to undertake to lead the drive to tackle climate change and achieve the targets the government has set to reduce carbon emissions.
Produced by the Chartered Institute of Housing and Orbit Group, it sets out the case for change as governments across the UK decide how to boost investment after the Covid-19 crisis. The briefing is in three parts:
Why do we need to act now? What do government targets mean for housing? What can the government do to make sure they can be met?
What does it mean to achieve zero carbon homes? And
How can social landlords contribute?
Building from the this, a more detailed guide for social landlords will be published next year.