Unleashing the digital premium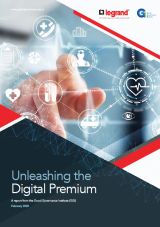 This new report from the Good Governance Institute and Legrand Assisted Living and Healthcare calls for immediate action to embrace digital solutions, building on a programme of research and engagement with senior leaders from the health, care, and housing sectors.
There is growing recognition that the public sector improvements we need cannot be delivered simply by delivering services in the same way, or even by becoming more efficient. New systems approaches are required in order to achieve improved health and wellbeing outcomes for communities throughout the UK. For example, it recommends:
a sufficient focus on improving outcomes for communities
the collection of data and how it is shared with partners
access to relevant expertise
diverse stakeholder engagement in developing and delivering digital strategy
The report calls for Board members to adapt the digital strategic direction of their organisations, working in collaboration with diverse partners from across sectors to form new alliances. Unleashing the Digital Premium refers to the potential that digital technology has to deliver these improved outcomes through more cost effective, efficient and reliable services, and by supporting greater independence for individuals and their families.
Speaking at the launch of the report, the Housing LIN's Chief Executive, Jeremy Porteus, said:
" Going digital is now an essential utility. Just like gas, electricity and water, we need the digital tap turned on."