Understanding the risks and benefits of co-living housing models for older people.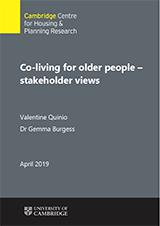 Many vulnerable older people face challenges of poor housing, disability, financial poverty, loneliness and lack of access to support.
Recently, new models of co-living for older people have developed, hoping to provide solutions to some of the housing challenges faced by older people.
These models take various forms, for example, co-living developments, where older home-owners pool resources to purchase homes with other older people; or home-sharing schemes to accommodate lodgers who provide help with household chores in return for low cost rent.
Cambridge Centre for Housing & Planning Research is assessing co-living housing for older people, with regards to the benefits, risks and potential for models to be offered at scale.