UN Global Report on Ageism: A global conversation on ageism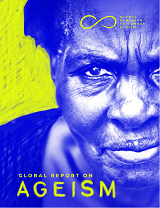 Developed by WHO, OHCHR, UNDESA, and UNFPA, this report presents the latest evidence on a topic that has greater relevance during the COVID-19 pandemic. It points out that ageism leads to poorer health, social isolation, earlier deaths and cost economies billions. The report calls for swift action to implement effective anti-ageism strategies.
The report outlines a framework for action to reduce ageism including specific recommendations for different actors (e.g. government, UN agencies, civil society organizations, private sector). It brings together the best available evidence on the nature and magnitude of ageism, its determinants and its impact. It outlines what strategies work to prevent and counter ageism, identifies gaps and proposes future lines of research to improve our understanding of ageism.
The report also includes a short section on housing and technology and notes the existence of age-based policies, procedures and attitudes. It calls for measures that reduce prejudice all help decrease ageism. All countries and stakeholders are encouraged to use evidence-based strategies, improve data collection and research and work together to build a movement to change how we think, feel and act towards age and ageing, and to advance progress on the UN Decade of Healthy Ageing.