'Those little connections': Community-led housing and loneliness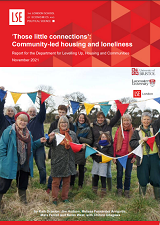 The Department for Levelling Up, Housing and Communities (DLUHC) commissioned this piece of research in late 2019 to address an identified evidence gap around the link between loneliness and participation in community-led housing (CLH)
The study is the Department's contribution to the government's 2018 Loneliness Strategy, which seeks to embed loneliness as a consideration across government policy.
Using a mixed-methods research approach including an online survey of CLH participants across the UK, and in-depth case studies of five communities in England, this was the first rigorous research to test the claim that living in community-led housing has measurable effects on loneliness and wellbeing.
The report reveals that:
participation in CLH schemes has a positive impact on loneliness: individuals involved in CLH, whether residents of CLH communities or not, are significantly less likely to feel lonely than similar members of the general public.
These benefits are an outcome of the interaction of the main features of CLH: joint activities and responsibilities, shared space, and physical design.
In light of the findings, the report recommends increased support for the CLH sector and investigating ways to apply the lessons to existing conventional housing.