This is how to design for isolation and loneliness in our communities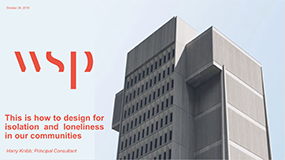 This paper from WSP aims to set out the main built environment causes of loneliness and isolation – such as density, safety, finance, accessibility, mobility, and urban scale – and to provide an overview of best-practice solutions developed from a global research programme.
With 9 million people reportedly suffering from loneliness in the UK – an increase of 200,000 people since the 1950s – this epidemic is impacting our community cohesion. Economically, the impacts are equally significant with three out of four GPs reporting that between one and five patients a day visit because they are lonely, and estimates place the burden of loneliness on private-sector employers at over £2 billion a year.