The TAPPI Inquiry Report: Technology for our Ageing Population: Panel for Innovation – Phase One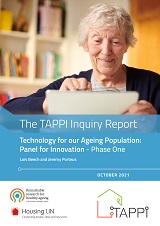 Technology and digital infrastructure that support future care needs must be built into all new housing, leaders from a range of sectors have urged in this report by the TAPPI Inquiry.
Chaired by Professor Roy Sandbach OBE and funded by the Dunhill Medical Trust, the Housing LIN's 6 month TAPPI Inquiry Panel heard from people with lived experience about the technological opportunities and barriers faced in their lives, especially during COVID. It also captured evidence and examples of innovative practice from over 30 sector leaders on tech solutions across housing, health and social care used to enable people to live independently and well at home.
These have helped shape the Panel's 'Big Insights' and the ten foundational TAPPI principles to build technology into housing in a way that improves life for our ageing population. In summary, they are: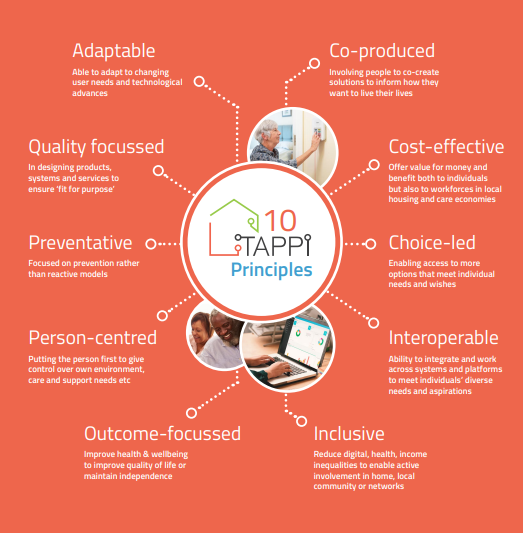 The TAPPI Inquiry also made a number of recommendations which have won widespread support, including:
Establishing a clear benchmark that works alongside industry codes and charters – a Minimum Digital Living Standard – setting out what is needed to live well and safely in a digital society
As part of a national digital strategy for transformation, create a housing and care products and services 'marketplace' platform that will enable easy consumer access to relevant digital products and services
Review and update planning policy and guidance and the regulatory framework for housing so that smart technology infrastructure is built into new homes, making them adaptable to the needs of an ageing population
Futureproof Government guidance on Disabled Facilities Grants so the scheme supports retrofitting and adaptations of homes for an ageing population – with a new Technology Facilities Grant.
Professor Roy Sandbach OBE, said:
"The last 18 months have shown just how important it is for older and vulnerable people to live in a home that makes them comfortable and content. This report highlights how technology can enable this.

"But it does much more. First, it crystallises TAPPI principles that should be at the heart of every care-related conversation. We also emphasise that technology-enabled homes must be designed and re-designed with the individual because everyone is different. It highlights the need for greater awareness, among all stakeholders, of leading-edge technology possibilities.

"And, crucially, it speaks to technology as a contributor to pro-active prevention of illness and related intervention. Healthy independence is the goal, with home technology playing its vital part throughout an individual's life. "
Jeremy Porteus, Chief Executive of the Housing LIN, which provided secretariat support to the Panel, said:
"The rapid pace of change requires a national strategy to ensure we are all equipped with the knowledge and skills required to make the most of technology. But the pandemic has shown us that older adults and people with a disability or long-term condition are more likely to be digitally excluded, despite having the most to gain.

"With time running out before the analogue to digital switchover in 2025, we have an opportunity to drive the 'digital revolution' across housing, health and care – putting the real needs of older people at the heart of policy and action. The TAPPI inquiry has confirmed that any project across housing, health and/or adult social care should incorporate a 'tech strategy' that follows the ten TAPPI principles so that older customers are not digitally excluded."
The Housing LIN is now leading in partnership with the TEC Services Association (TSA) the second phase of TAPPI to pilot the principles.