The Orangery extra care scheme one year on – a case study from Optivo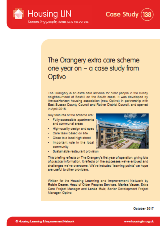 This Housing LIN case study 138 features The Orangery, an extra care scheme for older people in the Sidley neighbourhood of Bexhill on the South coast.
It was developed by AmicusHorizon housing association (now Optivo) in partnership with East Sussex County Council and Rother District Council, and opened in April 2016.
It highlights the scheme's key design features and reflects on The Orangery's first year of operation, giving lots of practical information.
Check out the Housing LIN's Designing for Extra Care Housing (opens new window) video in their 'Spotlight on Extra Care Housing' video series, for a look into the design process of The Orangery.