Tackling barriers to integration in health and social care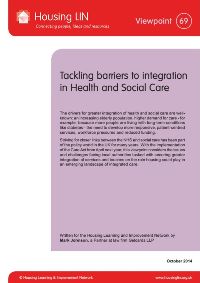 With the implementation of the Care Act from April 2015, this Housing LIN Viewpoint no 69 considers the issues and challenges facing local authorities tasked with securing greater integration of services and touches on the role housing could play in an emerging landscape of integrated care.
The drivers for greater integration of health and social care are well-known: an increasing elderly population, higher demand for care - for example, because more people are living with long-term conditions like diabetes - the need to develop more responsive, patient-centred services, workforce pressures and reduced funding. Striving for closer links between the NHS and social care has been part of the policy world in the UK for many years.