Stronger Foundations - International Lessons for the Housing with Care Sector in the UK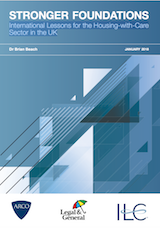 This ILC-UK report, supported by ARCO, discusses the issue of terminology around later life housing and housing-with-care in the UK and other international contexts (NZ, Australia and the US).
It states that appropriate housing options to facilitate ageing in place can be a powerful tool to address the growing need for housing and social care in light of an ageing population. However, it suggests that the UK lags behind a number of other countries in the provision of specialist later life housing.
In particular, it looks at three areas fundamental to the sector: legislation, financing, and planning, and makes a series of recommendations. They include the development of sector-specific legislation and regulation, aimed at increasing both consumer confidence while at the same time providing longer-term certainty to operators and investors in the UK.