Social Infrastructure: How shared spaces make communities work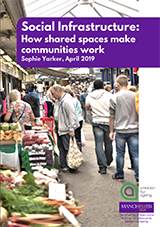 This report from Ambition for Ageing argues that to reduce social isolation, we need a diversity of social infrastructure to ensure chance social encounters with a diversity of people.
The report considers the importance of the connections made between diverse groups of people (also known as bridging capital). The types of social infrastructure that facilitate this rely on being open to a diversity of people - people who may not have normally have contact with one another. As such, these tend to be places that are open to all and that the majority of the community would have the opportunity to visit, including public libraries, commercial establishments and parks and open public spaces.
The author of the report, Sophie Yarker is a Research Fellow based in the Manchester Institute for Collaborative Research on Ageing (MICRA) at the University of Manchester.