Self-building our Lives: Social Care Research Report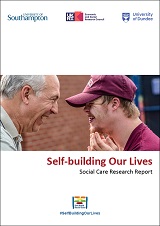 This ESRC research report written by the Universities of Southampton and Dundee seeks to inform this discussion on reforming social care and transforming services. Its' focus is on people with learning disabilities serves to provide important lessons over how social care can enable all people with support needs to respond to the advances made by personalisation and build meaningful lives in their communities. It suggests that the lessons learnt from this group can create a more inclusive and relational social care sector, based on local networks supporting people's lives.
The report is based on a two-year ESRC-funded collaborative research project to find out how people with learning disabilities have been seeking to 'self-build' their lives together with their families, friends, advocates and local support organisations. Its findings are focused around the key 'building blocks' in people's lives, including finding information and keeping and feeling safe in the community. It found that social care provision is becoming more personalised for disabled people in the UK. Increasingly people in need of social care are being asked to take more responsibility for organising care, support, work and activities, what we are terming 'self-building' daily lives or 'self-build social care'. In particular, it outlines how this can be achieved through independent brokerage, advocacy, community peer support and self-advocacy opportunities.