Kinship in the City: Urban loneliness and the Built Environment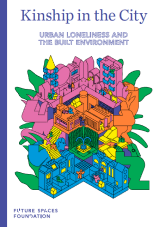 This report by Future Spaces Foundation (FSF) explores the impact of urban loneliness and ideas for reshaping our built environment to improve social cohesion.
Part of FSF's Vital Cities programme, it builds on their research into the building blocks of dynamic, socially sustainable cities where individuals and communities can thrive. In particular, it explores how the places we live, work and socialise in can both cause and combat loneliness.