Japan: Where grassroots support initiatives are growing in empty houses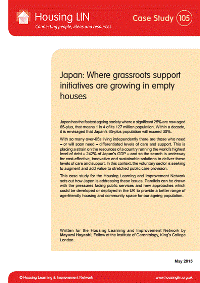 Housing LIN Case Study no 105. Japan has the fastest ageing society where a significant 25% are now aged 65-plus, that means 1 in 4 of its 127 million population. Within a decade, it is envisaged that Japan's 65-plus population will exceed 30%. With so many over-65s living independently there are those who need - or will soon need - differentiated levels of care and support. This is placing a strain on the resources of a country running the world's highest level of debt - 242% of Japan's GDP - and so the search is underway for cost-effective, innovative and sustainable solutions to deliver these levels of care and support. In this context, the voluntary sector is seeking to augment and add value to stretched public care provision.
This case study sets out how Japan is addressing these issues. Parallels can be drawn with the pressures facing public services and new approaches which could be developed or deployed in the UK to provide a better range of age-friendly housing and community space for our ageing population.