Integrating care: Next steps to building strong and effective integrated care systems across England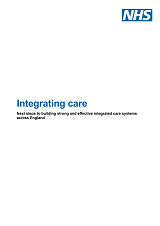 This NHS England report highlights the purpose and the practical steps to implementation of Integrated Care Systems (ICS's).
Alongside this, it highlights the future steps needed to be taken to ensure that the transition to an ICS model is smooth.
It details how organisations will work collaboratively in the future, identifying what makes up an effective ICS's and reflecting what a range of local leaders have shared with respect to their experiences over the past two years, including the immediate and long-term challenges presented by the COVID-19 pandemic.