Integrated Care Partnership (ICP) engagement document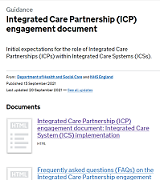 This document sets out The Department of Health and Social Care, NHS England and the Local Government Association's expectations for the role of Integrated Care Partnerships (ICPs) within Integrated Care Systems.
The document also makes reference to housing and healthier environments, stating:
ICPs will have a critical role to play in ICSs, facilitating joint action to improve health and care outcomes and experiences across their populations, and influencing the wider determinants of health, including creating healthier environments.
ICPs will also play a critical role in:
...support[ing] practitioners and local organisations to work together to help people live healthier and more independent lives for longer. ICPs will play a critical role in making this happen.
The document details how ICPs will be required to develop an integrated care strategy to address the broad health and social care needs of the population within the ICP's area, including determinants of health such as employment, environment, and housing issues. The creation of ICPs therefore presents an opportunity to:
...address health challenges that the health and care system cannot address alone, especially those that require a longer timeframe to deliver, such as tackling health inequalities and the underlying social determinants that drive poor health outcomes, including employment, reducing offending, climate change and housing.
The aim of the document is to support Local Authorities, Integrated Care Boards and other key stakeholders in considering what arrangements might work best in their area when laying the foundations for establishing ICPs.