Housing for Health: West Yorkshire and Harrogate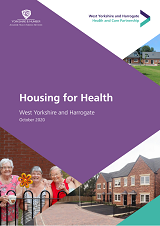 This report from West Yorkshire and Harrogate partnership provides housing professionals to work together to tackle health inequalities in the region, through investment into housing and targeted support.
The report contains a literature review section - uncovering findings on the health impacts of unsuitable homes, prevention and early intervention measures, public health inequalities, personalised care, and the wider determinants of health and wellbeing.
The report also contains case studies that detail the positive impacts of successful housing initiatives on health and health outcomes.
The case studies fall into some of the following categories:
Fuel poverty and warm homes
Social prescribing
Homelessness
Learning disabilities and mental health conditions