Housing and the older ethnic minority population in England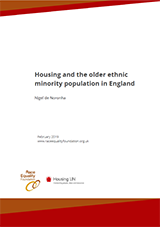 This report, commissioned jointly by the Housing LIN and the Race Equality Foundation from Nigel de Noronha at the University of Nottingham, highlights the significant extent to which older black and minority ethnic people experience housing disadvantage compared to the white British population.
In particular, key headlines from the research include the following findings:
Higher rates of housing deprivation for Pakistani, Bangladeshi and black African older owner occupiers - possibly reflecting patterns of cumulative disadvantage caused by lower incomes that have restricted the ability of some to improve their housing conditions;
Older people from black and minority ethnic communities have more difficulties accessing affordable housing;
Black and minority ethnic groups aged 50 and over who do not own their homes are mainly accommodated in the private rented sector; and
Older black and minority ethnic people are also more likely than other groups to experience 'housing deprivation' in the social rented sector.
As the older population becomes more diverse, it becomes ever more important that strategic housing and planning leads, housing providers, and designers and architects, consider the housing needs, challenges and aspirations of all older people, and people who will be reaching later life in the coming years. This paper addresses a much-neglected area of housing policy and research, and makes suggestions for where further research is needed in this area.