Housing and the older ethnic minority population in England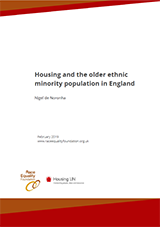 This briefing, by the Race Equality Foundation and the Housing LIN, addresses the future mainstream housing needs of older black and minority ethnic (BME) groups as they converge towards the age profile of the UK.
Although this paper does not address the specialist housing needs of older BME groups, a recommendation is made that this topic should be further addressed elsewhere.
In relation to general housing needs this briefing provides comprehensive data and analysis that identifies the demographic changes, the extent to which older BME people experience housing disadvantage compared to the white British population, what factors may contribute to this disadvantage and the spatial concentration of BME older people in urban areas in England.