Housing and disabled people: A toolkit for local authorities in England - Tenant Support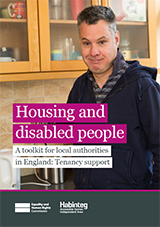 Tenancy and housing support can take a variety of forms. It can include assistance with applying for housing, accessing adaptations and services, managing finances and participating in the local community.
Tenancy support services should be available to all disabled people irrespective of whether they reside in residential, social or private housing.
This toolkit provides tools and examples of best practice to ensure that disabled people are able to access the support they need to maintain tenancies.
This toolkit is part of Housing and Disabled People A Toolkit for local authorities in England. More information can be found in the link below.