Housing and disabled people: A toolkit for local authorities in England - Allocations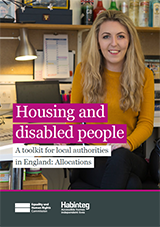 Disabled people are much more likely to live in rented social housing. Factors such as lower rent, security of tenure and potential for support all contribute to this.
It is vital that assessors understand how a disabled person's home can impact on their independence and health and that disabled people are experts on their own requirements.
Part of the EHRC and Habinteg toolkit on Housing and Disabled People for local authorities in England, this toolkit provides examples of good practice and tools to ensure that stakeholders have a voice and that accessibility is taken into account by local authority allocations policies.
This toolkit is part of Housing and Disabled People A Toolkit for local authorities in England. More information can be found in the link below.