Housing Models: the Differences between Residential Care and Supported Living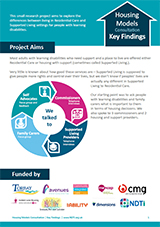 Most adults with learning disabilities who need support and a place to live are offered either Residential Care or housing with support (sometimes called Supported Living.).
Very little is known about how good these services are – Supported Living is supposed to give people more rights and control over their lives, but it is not known if peoples' lives are actually any different in Supported Living to Residential Care.
This report asked people with learning disabilities and family carers what is important to them in terms of housing decisions.