Hospital discharge and its impact on patient flow through hospitals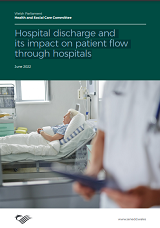 This report, published by the Welsh Government Health and Social Care Committee, looks into hospital discharge and its impact on patient flow through hospitals.
The Health and Social Care Committee's report found that a workforce crisis in the social care sector is resulting in patients staying in hospital for days, or even weeks, longer than necessary. This creates a backlog within the healthcare system leading to ambulances queuing up outside A&E for hours, unable to admit seriously ill patients and unavailable to help other members of the public.
The report highlights a number of issues that can contribute to holding up the discharge process, including housing. Social care, health and housing should be seen as the three pillars of the discharge system but the committee heard that suitability of housing considerations are too often an afterthought, and not given sufficient priority.
The report also acknowledges that it is currently difficult to gauge the full extent of the problem as the Welsh Government suspended reporting requirements on 'delayed transfers of care' at the start of the pandemic and introduced new discharge guidance.
The Committee's report outlines how family members and unpaid carers are being put in the impossible position of either leaving their loved ones in hospital longer than necessary or taking on further caring responsibilities they are not necessarily equipped to cope with.