Home aloners: The true cost of living alone in Britain today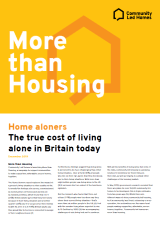 This report by Community Led Homes, a partnership between Confederation of Co-operative Housing, Locality, the National CLT Network and UK Cohousing, explores the impact of a person's living situation on their quality of life.
It reveals the findings of a survey which found that 1 in 4 (24%) British adults agree that they feel lonely because of their living situation and a further quarter (23%) say it is not good for their mental health (1). Over 2 in 5 (44%) British adults say they would like to feel more connected to people in their neighbourhood. (2)
Furthermore, findings suggest that living alone is perceived to be more challenging than other living situation. Over a third (36%) of people who live on their own agree that they feel lonely due to their living situations. With more than eight million people now living alone in the UK (3) it uncovers the true extent of the loneliness epidemic.
The research also found that three out of four (77%) people who live alone say they chose their current living situation - that's more than six million people in the UK (4). And with the number living alone expected to rise to 10.7million by 2039 (3) the accompanying challenges of solo living look set to continue.